The Beckhams... What do you think Anna Wintour is thinking?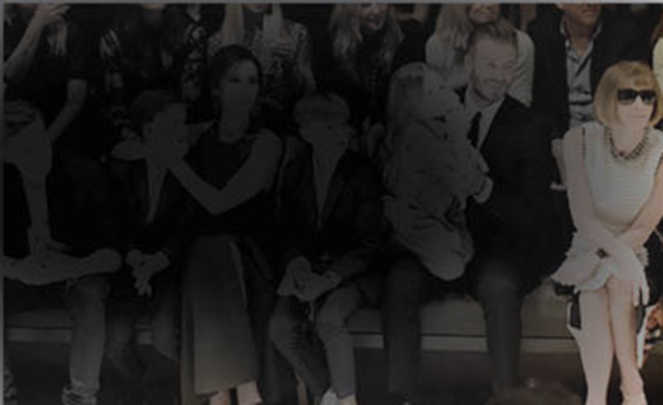 It's fashion week, and rather than look at the stick thin models wearing unwearable clothes on the catwalk, we took to the crowd for the most interesting pieces of people watching.  By far the most beautiful and entertaining is the Burberry show, where we can see American Vogue's Anna Wintour sitting next to the entire Beckham tribe.  We know it is unlike anyone here to care much about the Beckhams, but how can you not want to take a peek at these beautiful, well-dressed children, seemingly on their best behaviour.  We got the best pics from Twitter for you today.

Enjoy. What do you think Anna Wintour is thinking?

 

The Beckham family, ladies and gentlemen: http://t.co/AP6RoDx36w pic.twitter.com/C9q60LDfSV

— E! Online (@eonline) April 17, 2015
Did Harper Beckham impress Anna Wintour with her front-row behavior at Burberry? Take a look! http://t.co/VQ9asGs4Vv pic.twitter.com/xIGgTCuakc

— Us Weekly (@usweekly) April 17, 2015
Happy Birthday, Victoria Beckham. "I can't concentrate in flats." pic.twitter.com/pwlLAnXoyr

— Nico Bellay (@IAMFASHlON) April 17, 2015
Ad. Article continues below.
There's a lot more where this came form: http://t.co/T31mcx304L pic.twitter.com/c3QgvW14Wm

— People StyleWatch (@StyleWatchMag) April 17, 2015
Nope, still not over these amazing pics of the Beckham family sitting front row at Burberry! http://t.co/2SZNT0nNf6 pic.twitter.com/rnZcF2wOe3

— Us Weekly (@usweekly) April 17, 2015
Brooklyn Beckham and Cara Delevingne posing at last night's Burberry bash = new OTP http://t.co/bFvrmdB3jh pic.twitter.com/ZH3GnUrvo4

— Sugarscape (@sugarscape) April 18, 2015