The amazing secret photographs of Princess Diana's wedding revealed for the first time
It was one of the most watched events of all time – the wedding of Prince Charles and Diana Spencer in 1981. Broadcast around the world, millions got a front row seat to the royal union, but it is perhaps what went on behind the scenes that is that much more interesting.
Now, for the first time, photos of Diana, Princess of Wales, have been revealed and prepared for auction.
They depict a stunning Diana in her wedding dress as she carries her five-year-old bridesmaid Clementine Hambro, as the Queen walks by her side.
The ceremony, held at St Paul's Cathedral, was not known for its intimacy but in its halls, there was a natural princess being attended to, as well as caring for her guests.
Another image shows the flowing 25-foot wedding gown Diana wore, as it has to be carried into the Throne Room for official photos.
Ad. Article continues below.
She smiles as she greets guests and Prince Charles waits patiently next to her.
And although the marriage officially ended in the early-90s, these photos show a certain happiness that wasn't always conveyed through the media.
The auction of the photos is to be held by RR Auctions on September 24 in Boston.
The letter with the photographs says, "I was the photographic assistant to Lord Patrick Lichfield…the only photographer allowed to take informal photographs of the royal family and their guests when they returned to Buckingham Palace…for the wedding reception. These are original prints. The black and white ones were printed by me, in the dark room in Aubrey Walk, within hours of the wedding. The color photographs were printed by a trusted laboratory that did the Lichfield studio color work. Lord Lichfield had me make up an album of black and white and color photographs, which he presented to Prince Charles and Princess Diana to commemorate the day of their wedding. These are photos that did not go into that album [and were given to Litchfield's assistant in recognition of the work done on the wedding photographs]. To my knowledge, none have ever been published. Very few people have ever laid eyes on them." An exceptional assemblage of never-before-released images from the 'wedding of the century'".
Ad. Article continues below.
Take a look at the photos below…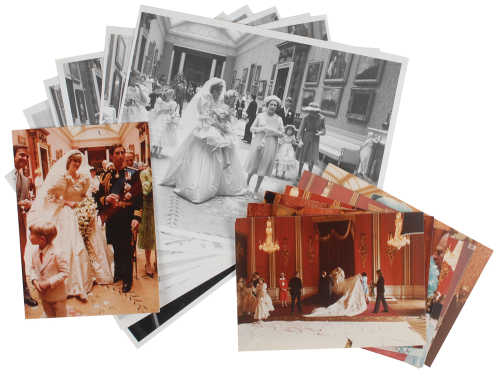 Behind-the-scenes photos show Charles and Diana's wedding as you've never seen it before http://t.co/Pwegxzg3z7 pic.twitter.com/W5ZmIR8NCv

— Daily Mail U.K. (@DailyMailUK) August 10, 2015
Amazing behind-the-scenes pictures of Charles and Diana's wedding http://t.co/64CD7Pc8os pic.twitter.com/krvijYvehN

— Daily Mail U.K. (@DailyMailUK) August 10, 2015