The 300 best albums of the last 30 years revealed – are your favourites on the list?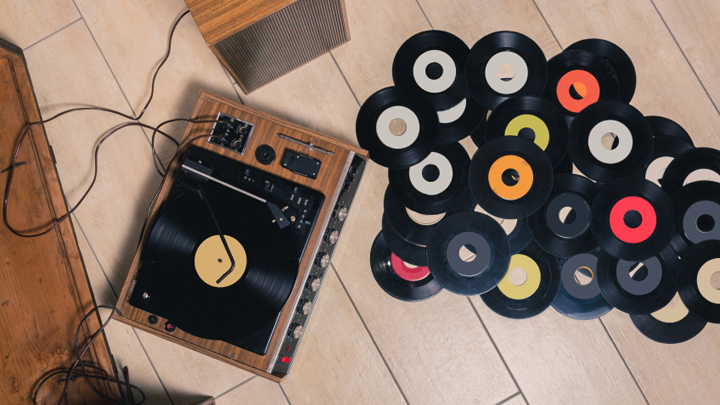 Music is such a personal thing but at the end of the day, there's always someone who doesn't like the same artists as you. They're called music reviewers and their opinion matters, apparently!
According to Spin magazine, there have been 300 excellent albums in the last 30 years. They've compiled the list of their favourites to celebrate their 30th anniversary.
Some have cried out at the list, saying that some brilliant albums haven't been included or aren't high enough in the list.
Interesting, Bruce Springsteen appeared only once in the top 300 and Bob Dylan and Johnny Cash's biggest albums were noticeably absent.
Spin reassures readers and music lovers that the results were tallied from ballots submitted by contributors past and present.
Ad. Article continues below.
So here is the full list of albums – what do you think? Is your favourite album on the list?
Spin's The 300 Best Albums of the Past 30 Years [1985-2014]
1. Nirvana: Nevermind (1991, DGC)
2. Wu-Tang Clan: Enter the Wu-Tang (36 Chambers) (1993, Loud)
3. Prince: Sign o' the Times (1987, Paisley Park)
4. Daft Punk: Discovery (2001, Virgin)
5. The Smiths: The Queen Is Dead (1986, Sire)
6. Radiohead: OK Computer (1997, Capitol)
7. Liz Phair: Exile in Guyville (1993, Matador)
8. Kanye West: My Beautiful Dark Twisted Fantasy (2010, Roc-A-Fella)
9. DJ Shadow: Endtroducing (1996, Mo Wax)
10. Pavement: Slanted & Enchanted (1992, Matador)
11. D'Angelo: Voodoo (2000, Virgin)
12. Sonic Youth: Daydream Nation (1988, DGC)
13. Jay-Z: The Blueprint (2001, Roc-A-Fella)
14. My Bloody Valentine: Loveless (1991, Sire)
15. Public Enemy: Fear of a Black Planet (1990, Def Jam)
16. Magnetic Fields: 69 Love Songs (1999, Merge)
17. The Beastie Boys: Paul's Boutique (1989, Capitol)
18. Björk: Homogenic (1997, Elektra)
19. The Strokes: Is This It (2001, RCA)
20. Pixies: Doolittle (1989, Elektra)
21. OutKast: Aquemini (1998, LaFace)
22. Green Day: Dookie (1994, Reprise)
23. Nas: Illmatic (1994, Columbia)
24. The Replacements: Tim (1985, Sire)
25. Hole: Live Through This (1994, DGC)
26. Dismemberment Plan: Emergency and I (1999, DeSoto)
27. The Notorious B.I.G.: Ready to Die (1994, Bad Boy)
28. Nirvana: In Utero (1993, DGC)
29. R.E.M.: Automatic for the People (1992, Warner Bros.)
30. Beck: Odelay (1996, DGC)
31. Weezer: Weezer (1994, DGC)
32. A Tribe Called Quest: The Low End Theory (1991, Jive)
33. Radiohead: Kid A (2000, Capitol)
34. Metallica: Master of Puppets (1986, Elektra)
35. Pulp: Different Class (1995, Island)
36. Public Enemy: It Takes a Nation of Millions to Hold Us Back (1988, Def Jam)
37. U2: Achtung Baby (1991, Island)
38. Beyoncé: Beyoncé (2013, Columbia)
39. Burial: Untrue (2007, Hyperdub)
40. OutKast: Stankonia (2000, LaFace)
41. Elliott Smith: Either/Or (1997, Kill Rock Stars)
42. M.I.A.: Kala (2007, Interscope)
43. Neutral Milk Hotel: In the Aeroplane Over the Sea (1998, Merge)
44. Pavement: Crooked Rain, Crooked Rain (1994, Matador)
45. Kendrick Lamar: Good Kid, M.A.A.D. City (2012, Interscope/Aftermath)
46. Modest Mouse: The Moon and Antarctica (2000, Epic)
47. LCD Soundsystem: Sound of Silver (2007, Capitol/DFA)
48. Nine Inch Nails: The Downward Spiral (1994, Interscope)
49. Wilco: Yankee Hotel Foxtrot (2002, Nonesuch)
50. Eminem: The Marshall Mathers LP (2000, Interscope)
51. Hüsker Dü: New Day Rising (1985, SST)
52. De La Soul: 3 Feet High and Rising (1989, Tommy Boy)
53. P.J. Harvey: Rid of Me (1993, Island)
54. Janet Jackson: Rhythm Nation 1814 (1989, A&M)
55. Jesus and Mary Chain: Psychocandy (1985, Reprise)
56. Lil Wayne: Tha Carter III (2008, Motown/Cash Money)
57. Guns N' Roses: Appetite for Destruction (1987, Geffen)
58. Sleater-Kinney: The Woods (2005, Sub Pop)
59. Kanye West: The College Dropout (2004, Roc-A-Fella)
60. Vampire Weekend: Modern Vampires of the City (2013, XL)
61. Portishead: Dummy (1994, Go! Discs)
62. Eric B. and Rakim: Paid in Full (1987, 4th & Broadway)
63. Drake: Take Care (2011, Cash Money/Universal)
64. The Chemical Brothers: Dig Your Own Hole (1997, Astralwerks)
65. Belle and Sebastian: If You're Feeling Sinister (1996, Enclave)
66. Ghostface Killah: Fishscale (2006, Def Jam)
67. Robyn: Body Talk (2010, Cherrytree/Konichiwa)
68. The Flaming Lips: The Soft Bulletin (1999, Warner Bros.)
69. Björk: Post (1995, Elektra)
70. Fugazi: Repeater (1990, Dischord)
71. Aphex Twin: Richard D. James Album (1996, Sire)
72. The Cure: Disintegration (1989, Elektra)
73. The Breeders: Last Splash (1993, 4AD/Elektra)
74. N.W.A.: Straight Outta Compton (1988, Priority)
75. Yo La Tengo: I Can Hear the Heart Beating as One (1997, Matador)
76. Smashing Pumpkins: Siamese Dream (1993, Virgin)
77. Slayer: Reign in Blood (1986, Def American)
78. Frank Ocean: Nostalgia, Ultra (2011, self-released)
79. Oasis: (What's the Story) Morning Glory? (1995, Epic)
80. Bikini Kill: The Singles (1998, Kill Rock Stars)
81. Weezer: Pinkerton (1996, Geffen)
82. Tricky: Maxinquaye (1995, Island)
83. Japandroids: Celebration Rock (2012, Polyvinyl)
84. A Tribe Called Quest: Midnight Marauders (1993, Jive)
85. Arcade Fire: Funeral (2004, Merge)
86. Pixies: Surfer Rosa (1988, 4AD)
87. Genius/GZA: Liquid Swords (1995, Geffen)
88. TV on the Radio: Return to Cookie Mountain (2006, Interscope)
89. Madonna: Like a Prayer (1989, Sire)
90. J Dilla: Donuts (2006, Stones Throw)
91. Miranda Lambert: Crazy Ex-Girlfriend (2007, Columbia)
92. Missy Elliott: Supa Dupa Fly (1997, Gold Mind)
93. Daft Punk: Homework (1997, Virgin)
94. The White Stripes: White Blood Cells (2001, Sympathy for the Record Industry)
95. New Order: Low Life (1985, Qwest)
96. Blur: 13 (1999, Virgin) [**]
97. Clipse: Hell Hath No Fury (2006, Re-Up Gang/Zomba)
98. Boards of Canada: Music Has the Right to Children (1998, Warp)
99. TLC: Crazysexycool (1994, La Face)
100. Guided by Voices: Bee Thousand (1994, Scat)
101. Justin Timberlake: Futuresex/Lovesounds (2006, Jive/Zomba)
102. L.L. Cool J: Mama Said Knock You Out (1990, Def Jam)
103. Depeche Mode: Violator (1990, Sire)
104. Kanye West: Late Registration (2005, Roc-A-Fella)
105. Dr. Dre: The Chronic (1992, Death Row)
106. Dinosaur Jr.: You're Living All Over Me (1987, SST)
107. Paul Simon: Graceland (1986, Warner Bros.)
108. Jay-Z: Reasonable Doubt (1996, Roc-A-Fella)
109. Tears for Fears: Songs From the Big Chair (1985, Mercury)
110. Panda Bear: Person Pitch (2007, Paw Tracks)
111. Amy Winehouse: Back to Black (2007, Universal)
112. The Beastie Boys: Licensed to Ill (1986, Def Jam)
113. Radiohead: The Bends (1995, Capitol)
114. The XX: XX (2009, XL/Young Turks)
115. The Fugees: The Score (1996, Ruffhouse)
116. Mary J. Blige: What's the 411? (1992, MCA)
117. Primal Scream: XTRMNTR (2000, Astralwerks)
118. U2: The Joshua Tree (1987, Island)
119. Built to Spill: Keep It Like a Secret (1999, Warner Bros.)
120. Miguel: Kaleidoscope Dream (2012, RCA)
121. Kate Bush: Hounds of Love (1985, EMI America)
122. Vampire Weekend: Vampire Weekend (2008, XL)
123. Madvillain: Madvillainy (2004, Stones Throw)
124. P.J. Harvey: Stories From the City, Stories From the Sea (2000, Island)
125. The Knife: Silent Shout (2006, Rabid/Mute)
126. Guided by Voices: Alien Lanes (1995, Matador)
127. Fiona Apple: When the Pawn . . . (1999, Clean Slate/Epic)
128. Against Me!: New Wave (2007, Sire)
129. Beyoncé: B'Day (2006, Columbia)
130. Frank Ocean: Channel Orange (2012, Def Jam)
131. Sleater-Kinney: Dig Me Out (1997, Kill Rock Stars)
132. Michael Jackson: Dangerous (1991, Epic)
133. Elliott Smith: XO (1998, Dreamworks)
134. Blink-182: Enema of the State (1999, MCA)
135. The Stone Roses: The Stone Roses (1989, Silvertone)
136. The Flaming Lips: Yoshimi Battles the Pink Robots (2002, Warner Bros.)
137. Broken Social Scene: You Forgot It in People (2002, Arts & Crafts)
138. The Replacements: Pleased to Meet Me (1987, Sire)
139. Animal Collective: Merriweather Post Pavilion (2009, Domino)
140. Nirvana: MTV Unplugged in New York (1994, DGC)
141. The Afghan Whigs: Gentlemen (1993, Elektra)
142. The National: Boxer (2007, Beggars Banquet)
143. The Notorious B.I.G.: Life After Death (1997, Bad Boy)
144. Pearl Jam: Vitalogy (1994, Epic)
145. Lucinda Williams: Lucinda Williams (1988, Koch)
146. Aphex Twin: Selected Ambient Works, Vol. 2 (1994, Sire)
147. Taylor Swift: Speak Now (2010, Big Machine)
148. Sonic Youth: Goo (1990, DGC)
149. Ryan Adams: Heartbreaker (2000, Bloodshot)
150. Cloud Nothings: Attack on Memory (2012, Carpark)
151. Pixies: Bossanova (1990, Elektra)
152. Tom Waits: Rain Dogs (1985, Island)
153. Pavement: Wowee Zowee (1995, Matador)
154. Raekwon: Only Built 4 Cuban Linx (1995, Loud/RCA)
155. Sunny Day Real Estate: Diary (1994, Sub Pop)
156. Pistol Annies: Hell on Heels (2011, Columbia Nashville)
157. Yo La Tengo: And Then Nothing Turned Itself Inside-Out (2000, Matador)
158. Erykah Badu: Mama's Gun (2000, Motown)
159. The Postal Service: Give Up (2003, Sub Pop)
160. Oasis: Definitely Maybe (1994, Epic)
161. Massive Attack: Mezzanine (1998, Virgin)
162. Modest Mouse: The Lonesome Crowded West (1997, Up)
163. Spoon: Kill the Moonlight (2002, Merge)
164. Janet Jackson: Janet (1993, Virgin)
165. Le Tigre: Le Tigre (1999, Mr. Lady)
166. Run-DMC: Raising Hell (1986, Profile)
167. The Wrens: The Meadowlands (2003, Absolutely Kosher)
168. Eminem: The Slim Shady LP (1999, Interscope)
169. Smashing Pumpkins: Melon Collie and the Infinite Sadness (1995, Virgin)
170. Lil Wayne: Da Drought 3 (2007, Young Money)
171. Blur: Parklife (1994, Food)
172. Tune-Yards: Whokill (2011, 4AD)
173. Disclosure: Settle (2013, Cherrytree/Interscope)
174. Mastodon: Blood Mountain (2006, Reprise)
175. Ghostface Killah: Supreme Clientele (2000, Epic)
176. Primal Scream: Screamadelica (1991, Sire)
177. At the Drive-In: Relationship of Command (2000, Virgin)
178. Black Star: Mos Def & Talib Kweli Are Black Star (1998, Rawkus)
179. No Age: Everything in Between (2010, Sub Pop)
180. Four Tet: Rounds (2003, Domino)
181. Jeff Buckley: Grace (1994, Columbia)
182. The Smiths: Strangeways, Here We Come (1987, Sire)
183. Jimmy Eat World: Bleed American (2001, Grand Royal)
184. LCD Soundsystem: This Is Happening (2010, DFA/Virgin)
185. Jay-Z: The Black Album (2003, Roc-A-Fella)
186. The Avalanches: Since I Left You (2000, Sire)
187. Teenage Fanclub: Bandwagonesque (1991, Creation)
188. Nine Inch Nails: Pretty Hate Machine (1989, TVT)
189. Yeah Yeah Yeahs: Fever to Tell (2003, Interscope)
190. Boredoms: Super Ae (1998, Birdman)
191. Galaxie 500: On Fire (1989, Rough Trade)
192. Lauryn Hill: The Miseducation of Lauryn Hill (1998, Columbia/Ruffhouse)
193. Wilco: Summerteeth (1999, Warner Bros.)
194. The Pharcyde: Bizarre Ride II the Pharcyde (1992, Delicious Vinyl)
195. Drive-By Truckers: Brighter Than Creation's Dark (2008, New West)
196. C86 (1986, Rough Trade/NME)
197. Lady Gaga: The Fame Monster (2009, Cherrytree/Interscope)
198. Sufjan Stevens: Illinois (2005, Asthmatic Kitty)
199. Soundgarden: Superunknown (1994, A&M)
200. Moby: Everything Is Wrong (1995, Elektra)
201. Rage Against the Machine: The Battle of Los Angeles (1999, Epic)
202. Sleigh Bells: Treats (2010, Mom + Pop)
203. D'Angelo: Brown Sugar (1995, Capitol)
204. Aphex Twin: Selected Ambient Works 85-92 (1993, R&S)
205. Mobb Deep: The Infamous (1995, Loud)
206. Sonic Youth: Sister (1987, SST)
207. Deerhunter: Halcyon Digest (2010, 4AD)
208. Run the Jewels: Run the Jewels 2 (2014, Mass Appeal)
209. Fiona Apple: The Idler Wheel . . . (2012, Clean Slate/Epic)
210. The Mountain Goats: Tallahassee (2002, 4AD)
211. Aaliyah: One in a Million (1996, Blackground)
212. Beach House: Teen Dream (2010, Sub Pop)
213. New Order: Brotherhood (1986, Qwest)
214. Chance the Rapper: Acid Rap (2013, self-released)
215. Spiritualized: Ladies and Gentlemen We Are Floating in Space (1997, Dedicated/RMG)
216. Destroyer: Kaputt (2011, Merge)
217. Orbital: In Sides (1996, FFRR)
218. Ariel Pink's Haunted Graffiti: Before Today (2010, 4AD)
219. System of a Down: Toxicity (2001, American)
220. Brad Paisley: American Saturday Night (2009, Arista Nashville)
221. Snoop Doggy Dogg: Doggystyle (1993, Death Row)
222. Bikini Kill: Pussy Whipped (1993, Kill Rock Stars)
223. The Roots: Rising Down (2008, Def Jam)
224. Phoenix: Wolfgang Amadeus Phoenix (2009, Glassnote)
225. Portishead: Third (2008, Island)
226. Nicki Minaj: Pink Friday (2010, Universal Motown)
227. R.E.M.: Document (1987, IRS)
228. Paramore: Paramore (2013, Fueled by Ramen)
229. DJ Rashad: Double Cup (2013, Hyperdub)
230. The Shins: Chutes Too Narrow (2003, Sub Pop)
231. M.I.A.: Arular (2005, XL)
232. The War on Drugs: Lost in the Dream (2014, Secretly Canadian)
233. Bright Eyes: Lifted or the Story Is in the Soil, Keep Your Ear to the Ground (2002, Saddle Creek)
234. Janet Jackson: Control (1986, A&M)
235. Oneohtrix Point Never: Replica (2011, Software)
236. Interpol: Turn on the Bright Lights (2002, Matador)
237. Godspeed You! Black Emperor: Lift Your Skinny Fists Like Antennas to Heaven (2000, Constellation/Kranky)
238. The Indestructible Beat of Soweto (1986, Shanachie)
239. Rilo Kiley: The Execution of All Things (2002, Saddle Creek)
240. Animal Collective: Sung Tongs (2004, Fat Cat)
241. The Weeknd: House of Balloons (2011, Universal Republic)
242. Queens of the Stone Age: Rated R (2000, Interscope)
243. Lil Wayne: Tha Carter II (2005, Universal Money/Cash)
244. Grizzly Bear: Veckatimest (2009, Warp)
245. Air: Moon Safari (1998, Astralwerks)
246. 2Pac: All Eyez on Me (1996, Koch)
247. The Dirty Projectors: Bitte Orca (2009, Domino)
248. Cursive: The Ugly Organ (2003, Saddle Creek)
249. L7: Bricks Are Heavy (1992, Slash)
250. Basement Jaxx: Rooty (2001, Astralwerks)
251. M83: Saturdays = Youth (2008, Mute)
252. Wussy: Funeral Dress (2005, Shake It)
253. Caribou: Swim (2010, Merge)
254. The Beastie Boys: Ill Communication (1994, Capitol/Grand Royal)
255. The Field: From Here We Go Sublime (2007, Kompakt)
256. Cannibal Ox: The Cold Vein (2001, Def Jux)
257. The Chills: Submarine Bells (1990, Slash)
258. Bon Iver: For Emma, Forever Ago (2008, Jagjaguwar)
259. Bruce Springsteen: Tunnel of Love (1987, Columbia)
260. My Chemical Romance: Three Cheers for Sweet Revenge (2004, Reprise)
261. Sun Kil Moon: Benji (2014, Caldo Verde)
262. Sebadoh: Bakesale (1994, Sub Pop)
263. Neko Case: Blacklisted (2002, Bloodshot)
264. The Microphones: The Glow, Pt. 2 (2002, K)
265. Swervedriver: Mezcal Head (1993, A&M)
266. Stereolab: Emperor Tomato Ketchup (1996, Elektra)
267. The Deftones: White Pony (2000, Maverick)
268. Maxwell: Maxwell's Urban Hang Suite (1996, Sony/BMG Canada)
269. The Pogues: Rum, Sodomy, & the Lash (1985, MCA)
270. George Michael: Faith (1987, Columbia)
271. Sublime: Sublime (1996, Gasoline Alley/MCA)
272. The Mekons: The Mekons Rock 'n' Roll (1989, Collectors' Choice)
273. Slint: Spiderland (1991, Touch & Go)
274. Ice-T: O.G. Original Gangster (1991, Sire)
275. Tegan and Sara: Heartthrob (2013, Vapor/Warner Bros.)
276. Frankie Knuckles: Beyond the Mix (1991, Virgin)
277. Ride: Nowhere (1990, Sire)
278. Coldplay: A Rush of Blood to the Head (2002, Capitol)
279. Aerosmith: Pump (1989, Geffen)
280. Sleater-Kinney: The Hot Rock (1999, Kill Rock Stars)
281. The Go-Betweens: Tallulah (1987, Big Time)
282. Digable Planets: Blowout Comb (1994, Pendulum)
283. Superchunk: I Hate Music (2013, Merge)
284. The Killers: Hot Fuss (2004, Island/Universal)
285. The Books: Thought for Food (2002, Tomlab)
286. Sugar: Copper Blue (1992, Rykodisc)
287. TV on the Radio: Dear Science (2008, Interscope)
288. Tyler, the Creator: Goblin (2011, Odd Future)
289. The Unicorns: Who Will Cut Our Hair When We're Gone? (2003, Alien8)
290. Tori Amos: Little Earthquakes (1991, Atlantic)
291. The Hold Steady: Separation Sunday (2005, Frenchkiss)
292. Usher: Looking 4 Myself (2012, RCA)
293. Garbage: Version 2.0 (1998, Almo)
294. Sigur Rós: Agaetis Byrjun (1999, Play It Again Sam)
295. Old 97's: Too Far to Care (1997, Elektra)
296. Total 4 (2002, Kompakt)
297. Gorillaz: Demon Days (2005, Virgin)
298. Ice Cube: AmeriKKKa's Most Wanted (1990, Priority)
299. Parquet Couts: Sunbathing Animal (2014, What's You Rupture)
300. Green Day: American Idiot (2004, Reprise)