Terri Irwin's sweet Thanksgiving tribute for late husband Steve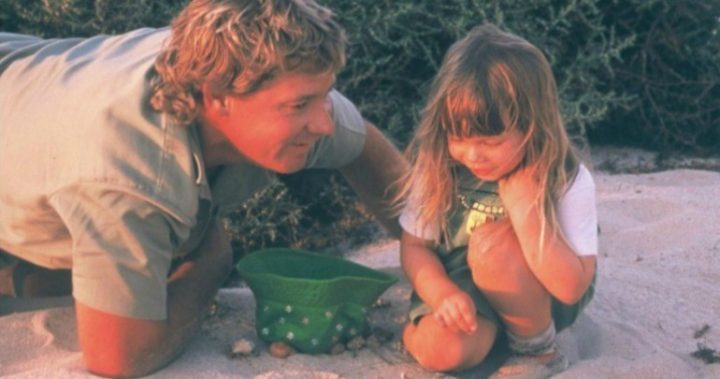 True love stays burning long after someone has left us and the same can be said about Steve and Terri Irwin. It's been ten years since the fateful day where Steve died from being stung by a stingray. Today, Terri Irwin says she is thankful for the 14 years she had with her late husband Steve Irwin.
In celebration of Thanksgiving, Terri penned a heartfelt tribute in honour of the beloved Crocodile Hunter, who died 10 years ago following the attack of a stingray off the coast of Australia while filming a documentary.
"Thankful. 14 years of adventure and two beautiful children. Thank you to all @wildwarriors keeping Steve's legacy alive. #Thanksgiving," Terri, 52, tweeted in addition to an adorable throwback photo of the smiling family of four on board a boat.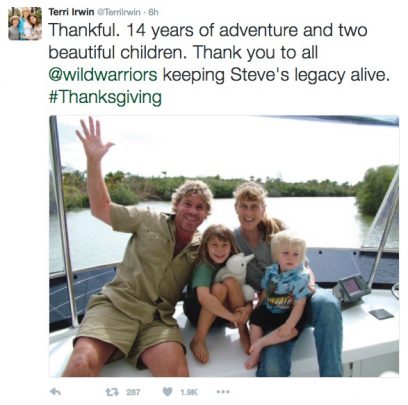 Related: Bindi Irwin's tribute to her father on Steve Irwin Day
The couple wed in 1992 and had two children together over the course of their decade-long marriage: daughter Bindi Irwin, now 18, and son Robert, now 12.
Ad. Article continues below.
Although it's been a decade since her husband passed, Terri's love for Steve remains strong. In August, she revealed that she hasn't been on a "single date" since he passed away on Sept. 4, 2006 at the age of 44, reports People.
"I haven't been on a single date since Steve died," the 52-year-old told The Australian Woman's Weekly.
The mother of two continued about her life partner, "If I hadn't met Steve, I probably would never have married because I wasn't looking for love when I met him."
"What we had was incredible," she told the magazine of her relationship with Steve.
Do you remember Steve's Irwin's great moments on his TV show?