Teacher shows good humour; breaks the internet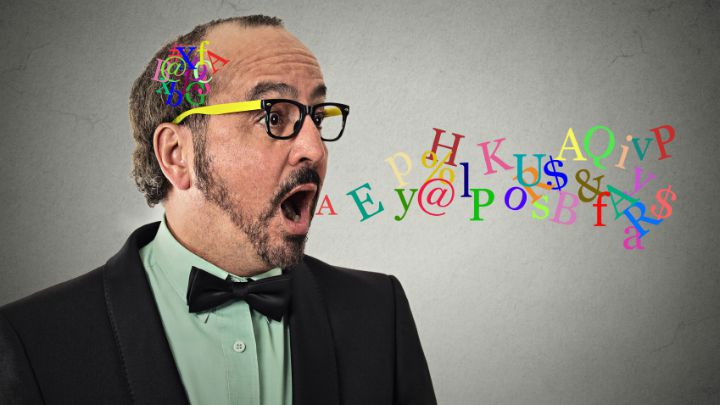 This is one for all the ex-teachers out there (or anyone who's ever done something they shouldn't after a couple of drinks).
A student called Patrick Davidson sent a drunken email to his lecturer asking for an extension on his essay, due the next day.
We'll spare you the sweary message in its text-speak entirety, and provide instead a sanitised translation. Mr Davidson's email opened with a compliment:
Mr Martin,
Just letting you know that you are a top bloke and I am sorry that you are bald.
If you want, I could introduce you to some girls who like bald men that will ensure a fulfilling sex life.
Also, I just needed to ask you for an extension on my paper. I am a little drunk and will be sick as a dog tomorrow.
Keep slaying' boy and I forgot to do school loop again [we have no idea what this means].
Ad. Article continues below.
Love you and see you Monday
Good Yard
Patrick Davidson
Considering the student was completely hammered when he pulled out his phone to text his teacher, the lecturer had two options. He could have disciplined the student, taken offence to his personal comments and refused the extension. Or, he could have done this: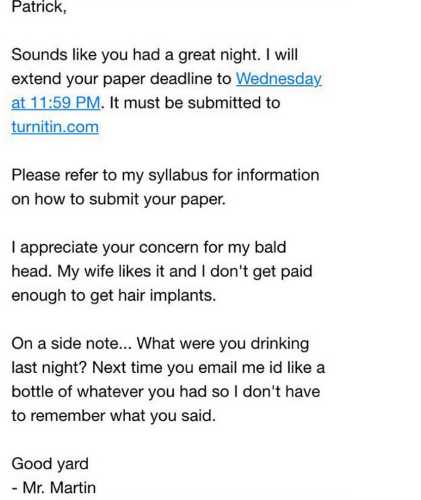 We particularly love the way he signs off with the student's own salutation. Who says teachers don't have a sense of humour?
Ad. Article continues below.
The email exchange was shared on social media site Reddit and has been viewed more than a million times, garnering nearly 2000 comments, many of whom were equally stunned to discover educators were human.
What do you think of the teacher's response to his drunken student. Would you have done the same? And have you ever sent a message you shouldn't have while under the influence?