Sylvester Stallone looks smooth in white on his 70th birthday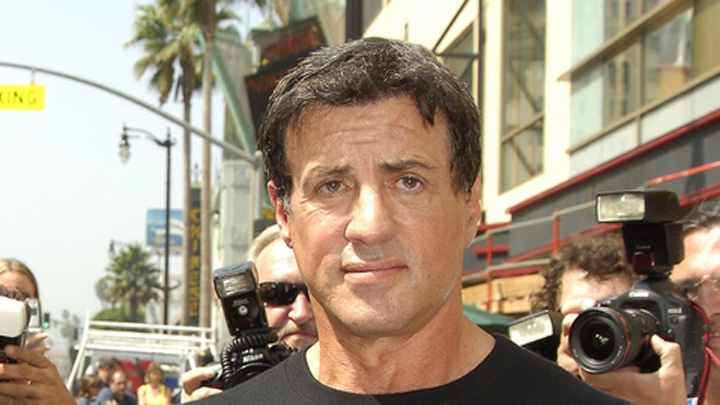 It's hard to believe that Sylvester Stallone is 70 but the Rocky star is… today! The actor celebrated his milestone birthday with a trip to Nice in France with his daughters and wife, and we must say, he looked great doing it!
Dressed in a white sports jacket and white pants, Sly looked every bit like his namesake – smooth and sleek! He even topped off the look with sneakers and slick hairdo as he walked from the airport in Nice overnight. The 70-year-old looked relaxed as he strolled with wife Jennifer Flavin, 47 and his daughters Sophia, Sistene, and Scarlet, whom he clearly adores.
During an appearance on Ellen in April, the actor admitted that his wife and daughters controlled his home.
'I basically just keep my mouth shut and don't cause waves,' Sylvester said.
Ellen clearly loves Sly and said he is 'the sweetest guy I have ever met,' and added, 'I mean I just fell in love with you when I met you.'
Ad. Article continues below.
Despite all this love from the women in his life, the action star admitted one day he'd just like to hang out with more men. 'I just sit there, I'd love to hang out with someone, you know what I mean? I just sit there and just watch the leaves fall off the tree of my life'.
It's good to see Sly is looking happy – this week it was revealed he is being sued for allegedly throwing a punch at a personal trainer who says Stallone stole his idea for a reality show.
Sylvester has not responded to the lawsuit as of yet.
Let's take a look at the pics of Sly and tell us, do you think he looks great for his age?
Ad. Article continues below.
Ad. Article continues below.