Struggle Street: How reality TV should be?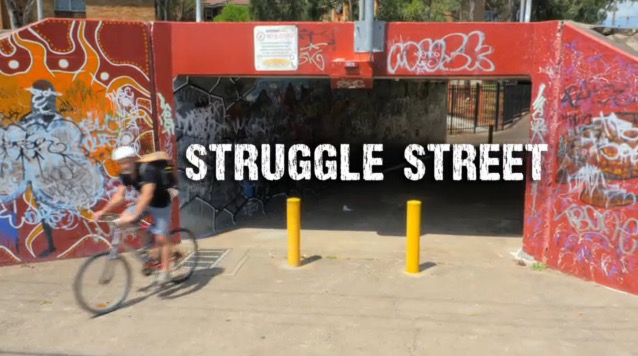 If you've given up on reality TV shows, you might want to make an exception for Struggle Street. The fly-on-the-wall documentary has been marketed aggressively and was labelled "poverty porn" by the Mayor of Blacktown, but reviews of the first episode have been surprising.
Entertainment writer Paul Kalina from the Sydney Morning Herald described the show as "unfiltered" and "occasionally difficult to watch" but found it "gave a voice to people who are rarely heard".
Struggle Street follows the lives of five people living in Mount Druitt, in the outer west of Sydney. There's a disability pensioner with ten children including one with an ice habit, his wife, who cares for them all, a 16-year-old victim of domestic abuse who barely has a roof over her head and a homeless indigenous man who shoots cats to feed his dogs.
The show had the potential to be truly awful and the promotional video did nothing to assuage those fears. If you watched nothing but the promo, you would find Struggle Street to be trite, condescending, staged and everything that makes us turn away from reality shows with disgust.
It was deliberately provocative but the strategy worked. Around Australia, 1.3 million people tuned in to watch the first episode last night.
Ad. Article continues below.
And the strategy of outrage worked. SBS's Struggle Street rated extremely well last night http://t.co/AWETVFnCZs

— Sharri Markson (@SharriMarkson) May 7, 2015

 
The show itself delivered a sensitive, although raw, picture of people who have truly been dealt a bad hand in life. The next two episodes, which have been fast-tracked and will be aired together next Wednesday night, will reportedly show the hope, community spirit and small joys that keep the protagonists going.
The Guardian describes Struggle Street as must-see TV. "Viewers, both the forgotten people of the outer-west and the self-absorbed middle-class of the inner-city suburbs, need to see the stories of Struggle Street," writes Steve Dow.
Ad. Article continues below.
So why the shock-and-awe strategy? Is that what it takes to get Australians to engage with unsightly aspects of our society? Have we become so desensitised that it takes a fat guy farting and someone sucking on a bong to get our attention?
Did you watch Struggle Street? If not, catch the first episode here and tell us what you think!