Steve Irwin "really was the face of Australia"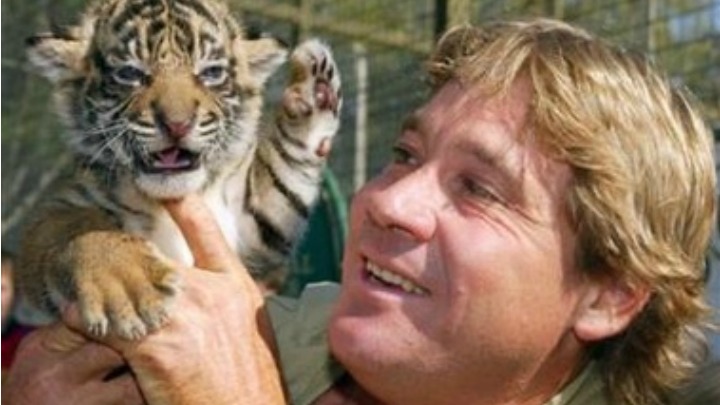 It has been ten years today since the world lost Steve Irwin. But the man known as the Crocodile Hunter still lives on in our hearts and our memories.
Steve was killed tragically by a stingray while filming for his wildly popular television series off the coast of Port Douglas in far north Queensland 10 years ago today. He was 44.
The man was snorkelling in 2m of warm water at Batt Reef, 32 nautical miles offshore from Port Douglas, when he paddled above a large 2.5m bull ray. At that moment the ray inexplicably struck at him, piercing his heart with its poisonous and serrated tail barb.
In an instant, he was gone.
Steve drew millions of people close to the wildest and rarest creatures, but the most unique specimen was him. As a human being, he was infinitely bigger than the sum of his parts. His appetite for life was titanic, his enthusiasm for it infectious.
Ad. Article continues below.
His close friend and manager John Stainton recently opened up about their professional and personal relationship.
"It's hard to talk about," Mr Stainton said. "It was a horrific situation and I couldn't believe it was happening in front of me.
"We had been friends for years and we led an incredible life where we had been filming for more than 15 years all over the world. We were really good mates and absolutely enjoyed what we did together."
Mr Stainton said people always wanted to know if Irwin was different in front of the camera than in real life.
"It was never a put on, he was larger than life in life," he said. "He had that magnetism and there was nothing like him before."
Ad. Article continues below.
Mr Stainton said the decade since Steve's death had made it even more apparent what the world lost.
Talking about Steve's family, Mr Stainton said, "He was so proud of Bindi, as well as Robert; he would be so, so proud of them now."
This morning, with a post on Instagram, Steve's 18-year-old daughter Bindi Irwin has paid a touching tribute to her late father on the day that also coincides with Father's Day this year in Australia. She's always spoken highly of him via social media and otherwise.
She said, "You'll be my hero for my entire existence. I love you more than words can describe," alongside a photo of Steve proudly holding her as a baby.
Ad. Article continues below.
Tributes have been pouring in from friends and fans alike, as proof of what a wonderful human being he was, and continues to be, perceived to be.
Read more: Ten things Steve Irwin said that we'll never forget
Ad. Article continues below.
His father, who is releasing his memoir next month, released a beautiful letter that he recently found written by Steve.
Ad. Article continues below.
Today host Karl Stefanovic recalled Irwin's rise from a small Aussie kid to a superstar who took on the world with his famous personality. "I marvelled at his courage to be himself, his hard work, and, most of all, his love for his family," he said. "To his kids, your dad was a bloody legend."
Swimming legend Susie O'Neill recalled the day she heard of Irwin's death.
"I was flying home from the Maldives when I got a text message from a friend saying, 'I can't believe the news about Steve'," Ms O'Neill said. "It was terrible news."
Former Queensland premier Peter Beattie spoke of Irwin's death as a "tragedy".
"He was the best ambassador we could have ever had … He really was the face of Australia," Mr Beattie said. "He did a great service to this country and he will be sadly missed."
His family – wife Terri, daughter Bindi and son, 12-year-old Robert – will host celebrations of Steve's life later in the year. Steve Irwin Day is held on November 15 with a family fun day at Australia Zoo, and a gala dinner will be held on November 26, at the Brisbane Convention and Exhibition Centre.
Do you have memories of the Crocodile Hunter? Where were you when you heard the news that Steve Irwin had passed?