Starts at 60 Coffee Events, across Australia and New Zealand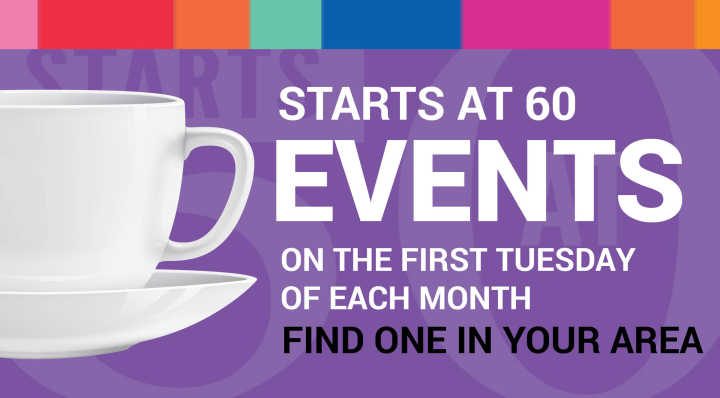 It's exciting! We're pleased to announce that Starts at 60 is kicking off community-run events all over Australia and New Zealand, starting next week. The events will be held on Tuesday 6th October from 10am, in a whole list of different venues, selected by community co-ordinators right around the country.
We plan to hold them monthly on the first Tuesday of each month, and it is our hope that you will be able to make new friends with people near to you and share a little more of what we hope you enjoy about Starts at 60… each other!
The events are free to attend, and all we ask is that you support the venues by buying your coffee locally. There's no obligations, no bookings and no commitment. Just come, make a new friend or two and leave with a smile.
Every event has a dedicated over 60 community co-ordinator that has volunteered to welcome everyone on the day. There might be 5 of you or there might be 25 – it all depends on how you get behind the events, bringing friends and colleagues along.
You can confirm your attendance at the events online, by booking a ticket from our events page. This will help us communicate with your community co-ordinators so they know how many people plan to attend.
Ad. Article continues below.
So don't delay, please help these events get off the ground and running rhythmically, in a way that brings people together.
The venues currently listed are:
Bundaberg, QLD
Feilding, NZ
Traralgon, VIC
Ad. Article continues below.
Penrith, NSW
Strathpine, QLD
Gympie, QLD
St Kilda, Melbourne, VIC
Bathurst, NSW
Ad. Article continues below.
Perth, WA
Mascot, Sydney, NSW
Loganholme, QLD
Bulimba, Brisbane, QLD
Bunbury, WA
To RSVP to the event in your area visit here: http://www.startsatsixty.com.au/events