Sonia Kruger makes her first TV appearance with baby Maggie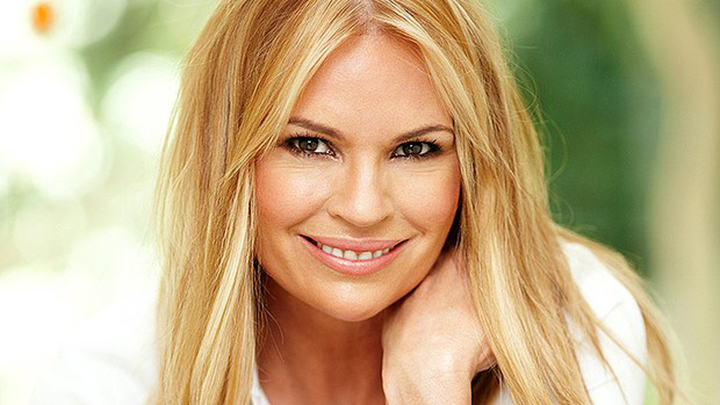 When we first heard the news that 49-year-old Sonia Kruger was having a baby, we were rapt. She was glowing as she made the announcement and throughout the pregnancy she looked absolutely fabulous.
Fast forward to now and little Maggie is a healthy little girl with a beaming mum. Sonia took her three-month-old to the TV studio for her first appearance on Today and it was lovely.
Hosts Karl Stefanovic and Lisa Wilkinson loved having a baby on set and were cuddling and holding the gorgeous bub. Sonia's Mornings co-host David Campbell was also on set with Maggie and the pair playfully mentioned Maggie has some red hair.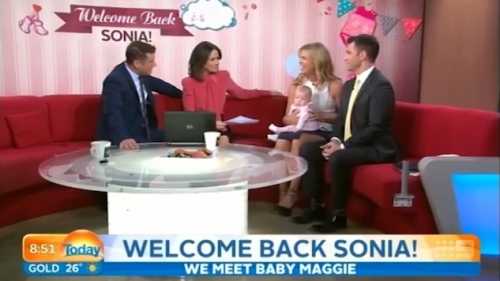 "She's actually got a bit of red-headedness to her doesn't she David?", Sonia said. "David was holding her this morning and he said to me "she's got ginger eyebrows", I'm worried she'll have the temper that goes with it too!"
Ad. Article continues below.
She said that she adored being a mother and was a hot mess at the moment. Maggie has turned out to be a calming force for the busy TV personality but she does have one tip for mums out there: "when you're changing a dirty nappy, take their socks off first!"
Sonia's beautiful baby was unaware of all the attention and sat quietly, looking at the camera.
After the segment, David and Sonia made their return as co-hosts on Mornings. Sonia said she was worried about returning and having not lost her baby weight, but she looked stunning in all white.
Sonia told Daily Mail that being a mother is everything "she imagined and more".
Ad. Article continues below.
"I think it makes you more emotional because I find… somebody just showed me a note their little girl had written for them saying 'Daddy I love you' it makes me all teary and weird," she said.
"I've never been that really emotional person before. I've always been kind of controlled and I now I find that I will cry in a National Australia Bank ad. What's wrong with me?"
She loves working in TV but said she would like to stay at home too. "In a perfect world, I think to be able to stay at home with her; that would be amazing, but we have bills to pay and I do love the show, and I'm kind of looking forward to going back and working with everybody again because it doesn't feel like work".
Sonia also mentioned that "99 per cent of people who have written to me have been so wonderful and have lots of amazing stories.
Ad. Article continues below.
"Everybody keeps asking me that because when you have a baby, the last thing you think about is having another one because she's so beautiful and she's so perfect.
"I got what I wanted".
Tell us your thoughts today.