Sex, alcohol and swearing: Free TV's Code of Practice might get M-rated at dinner time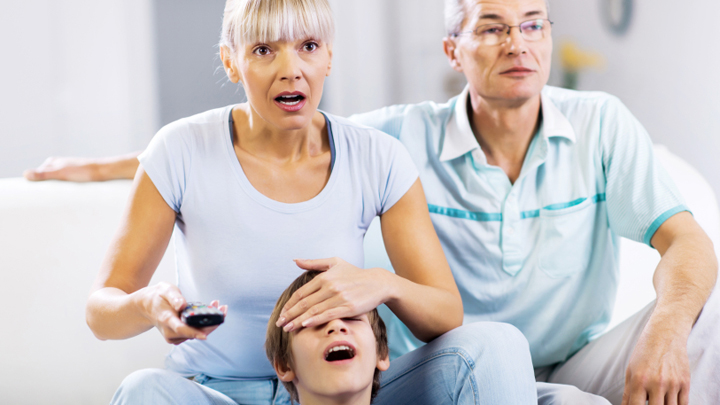 Soon we might see nudity, swearing and alcohol ads while we are eating our dinner if changes to Free TV's Code of Practice are approved.
You might think that this will lead to more complaints and be counterproductive for Free TV, but they though about that too – you mightn't even be able to complain.
So how did this all come about? Well, TV broadcasters want to move the M classification timezone to 7.30pm as content becomes less suitable for younger audiences – think Gallipoli, Downton Abbey, Offspring. They also want to filter out complaints by people who are offended by a show they have not watched (i.e. bandwagon supporters or family members and friends of the offended).
These are major changes to the Code of Practice, which was last amended in 2009. The AV classification, which signals adult violence, could also be dropped and MA15+ programs could screen from as early as 8.30pm, though SBS currently has an exemption for this.
But is Free TV being too lenient? Should mature content be allowed to show at a time when our grandchildren are typically watching? According to The Australian, the relaxation of the rules for M-rated programs to screen from 7.30pm could mean that ads, such as those for alcohol and gambling, that are usually reserved for late night viewing, could become a fixture at primetime.
One good thing to come out of the newly proposed Code is a hold on advertising limits for commercial televisions stations. Last year, there was talk that Channels 7 and 9 were hoping to increase the amount of ads they could show per hour, which was met with criticism across the board.
If you want to make a complaint after the new Code is passed, you might be met with silence. The Australian reports that the person who complains needs to have viewed the broadcast in order to make a formal complaint, making it difficult for lobby groups to oppose a program or ad in droves. It could help to keep resourcing low…so Free TV stays free.
Ad. Article continues below.
In Free TV's own words: "Free-to-air television will still be the most heavily regulated platform for accessing content".
Over the next 6 weeks, we will be likely to hear more but the Australia Communications and Media Authority will have the final say.
A copy of the proposed Code and the review documents are available from the Free TV Australia website, www.freetv.com.au
What do you think about the proposed changes to the Code? Are you worried about the content that will be shown as early as 7.30pm or will it be OK? Tell us below.