Guerrilla knitting takes over Queensland town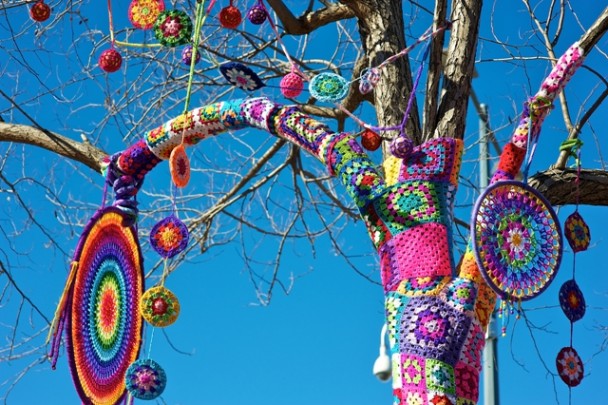 One of Australia's quirkiest and most colourful festivals kicks off this weekend and it promises to be a spectacular event. But the highlight of the Jumpers & Jazz festival in Warwick is… knitted graffiti!
Also known as "yarn bombing", this wooly version of street art is thought to have started in the United States with knitters finding a creative way to use left over yarn and unfinished projects.
Sometimes it's called "guerrilla knitting".
Ad. Article continues below.
Every year in the picturesque regional Queensland town of Warwick a yarn bombing art and jazz music festival transforms the town during the last two weeks of July.
It all began with the yarn bombing of a handful of trees 11 years ago and has grown into an incredible event that unites the town, and inspires visitors from afar.
Yarn bombing projects involve tmany willing hands using their knitting needles and crochet hooks dreaming up quirky ideas and clever objects to transform. Warwick Art Gallery has an energetic team of yarn bombers who collaborate on projects for Jumpers & Jazz in July all year.
Ad. Article continues below.
Last year, the Gallery yarn bombing team created a remarkable knitted, crochet, felted and wrapped installation inspired by an old fashioned kitchen.
The Knitchen attracted a massive audience and was one of the Gallery's most popular exhibitions ever.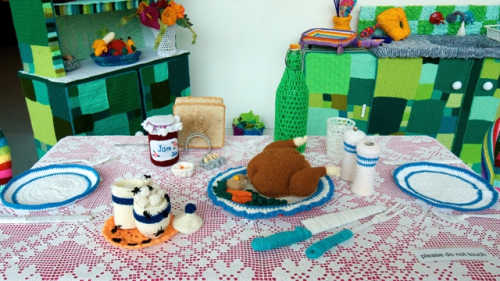 Another feature of the festival is the "tree jumper" competition, in which teams compete to dress trees in charming textile artwork.
Jumpers & Jazz starts on July 16 and runs until July 26. The program includes jazz bands and other musicians, art and craft workshops, and market stalls. For more details, visit the festival website.
Tell us what you think of yarn bombing! Looks like fun, doesn't it?