See the Aussie barbershop quartet that's taking the world by storm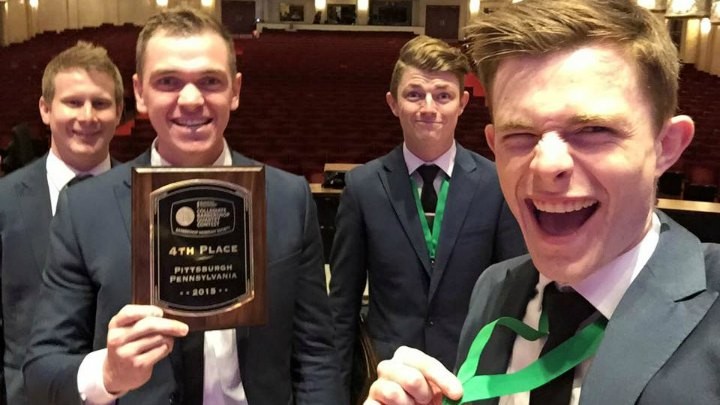 If you're a fan of beebops, doowops and Mr Sandman, you're going to love these young men. Michael Webber, Tim Green, Gareth Clarke and Trent Lewis are Blindside Quartet, a group of 20-somethings who just love to sing barbershop.
And this week, their hard work has paid off, with the group taking fourth place at the 77th Annual Barbershop Harmony Society's International Convention in Pittsburgh. They are the first Australians to ever score a medal in international barbershop competition.
The barbershop style of close a cappella harmonies has been around since the 1930s but regularly enjoys a resurgence in pop culture. In recent times, TV show Glee and the two Pitch Perfect films have helped repopularise this style of singing.
Blindside Quartet, however, stuck to traditional and were rewarded for it. The group sang the Sammy Davis Junior song What Kind Of Fool Am I andFrank Sinatra's I Won't Dance for their medal-winning set.
Ad. Article continues below.
We came 4th!!!!!It was such an incredible honour to sing on such an amazing stage in such a tight competition.Thank…

Posted by Blindside on Tuesday, June 30, 2015
"It's always been a pipe dream of ours to sing at internationals so it was great, Mr Webber, the group's baritone told Fairfax. "And we're the first Australian quartet to ever medal at internationals which is exciting too".
Two other Australian teams competed in the competition, The Grand Angus and Lockout.
The Barbershop Harmony Society was established in 1938 to preserve and promote the singing style, a key feature of which is the presence of the "ringing" chord, also known as a "barbershop seventh".
Ad. Article continues below.
See Blindside Quartet here competing in the 2014 Pan Pacific Youth Barbershop Quartet Champions:
What do you think of their performance? Do you have any barbershop memories to share?