See Patti Smith's surprise birthday party for the Dalai Lama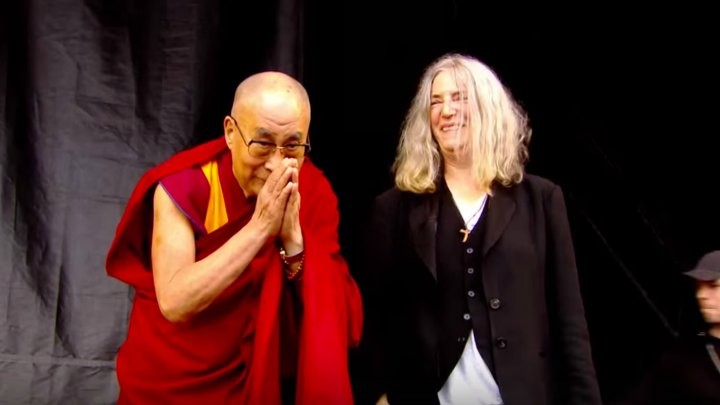 The Glastonbury music festival, which took place over the weekend, is famous for including left-of-field acts alongside the biggest names. But Patti Smith was responsible for the best surprise at the festival this year, when she brought out a special guest, none other than His Holiness the Dalai Lama.
Pausing mid-set, the legendary folk singer read a poem in honour of the Dalai Lama, before festival organisers led the 80-year-old Tibetan onto the stage.
Ms Smith announced to the crowd it was his 80th birthday and the crowd instantly burst into cheers and started singing Happy Birthday".
Ms Smith hushed them and said, "We are grateful to [the Dalai Lama] for all his love of humanity and making people aware of the importance of saving the planet".
His Holiness blew out the candles and made the first cut in his birthday cake on stage.
Ad. Article continues below.
Speaking about Ms Smith and her band, the Dalai Lama said, "Those singers, musicians, most of you [have] white hair, but their voice and their physical action, they look very beautiful, very forceful. So that gives me encouragement. Myself now 80 years old, but I should be more like you – more active".
The Dalai Lama made several appearances at the festival, including taking part in a panel where the he called upon the United States and Russia to scrap their nuclear weapons and demanded that nations begin to view the environment as a global issue.
The Tibetan leader also delivered an impromptu speech to hundreds of festivalgoers gathered at the "Stone Circle".
"In this very moment, in some parts of the world, like Syria, Iraq, Nigeria and some other places – they're killing, human to human being. Unthinkable. And the worst thing [is that] conflict, killing each other, in the name of their faith."
Rolling Stone reports the Dalai Lama got right into the spirit of the notoriously wet festival by using a Glastonbury t-shirt to protect himself from the rain.
Watch the video and share your thoughts. Do you think appearances like this help the Dalai Lama spread his message of peace?