Second Best Exotic Marigold Hotel surprise for Aussie shoppers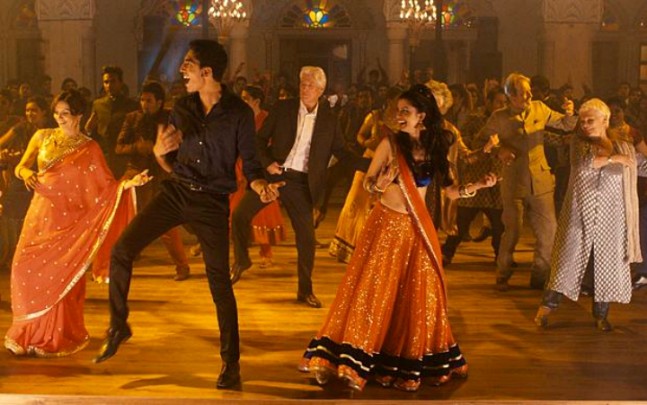 Shoppers in Sydney today couldn't believe their eyes when a group of 40 dancers, led by Home & Away's Lynne McGranger, burst into a surprise Bollywood flash dance.
Resplendent in burgundy sari & bindi, Ms McGranger, who is 62 said the performance was something she'd always wanted to do.
"It was brilliant. I've always wanted to be in a flash dance, so jumped at the chance to be involved! It's another tick off of the bucket list, said the Dancing with the Stars runner-up.
The dance, at Stockland Merrylands shopping centre, was coordinated to promote the BluRay/DVD release of the glorious film The Second Best Exotic Marigold Hotel, and replicated the final scene of the movie.
To keep the Bollywood extravaganza going, free dance classes are on offer in Sydney, Melbourne and Brisbane.
Ad. Article continues below.
Ms McGranger encourages anyone who wants to learn Bollywood dancing to get involved. "One of the big themes of the movie is that 'It's never too late!' These dance classes are for young & old, for those that have tried Bollywood dancing before and those entirely new to it. So give it a go!"
The Second Best Exotic Marigold Hotel is the delightful sequel to The Best Exotic Marigold Hotel, one of our favourite films of all time. The sequel does not disappoint and stars Judi Dench, Maggie Smith, Richard Gere and Bill Nighy. As one Twitter user described it, the movie is like a "smash dub of Bridget Jones' Diary and Downton Abbey". 
Here is the trailer for the film:
Ad. Article continues below.
If you are in Brisbane, Sydney or Melbourne and would like to try a free Bollywood dance class with the Mango Dance Bollywood School, go to Eventbrite, and search for Mango's Marigold Dance Classes. 120 spots will be made available from midday on Thursday, so you'll want to get in fast.
Have you ever tried Bollywood dancing? It's heaps of fun! What do you think of  Lynne McGranger's performance? 
THE SECOND BEST EXOTIC MARIGOLD HOTEL is available on DVD from July 22.