Second Best Exotic Marigold Hotel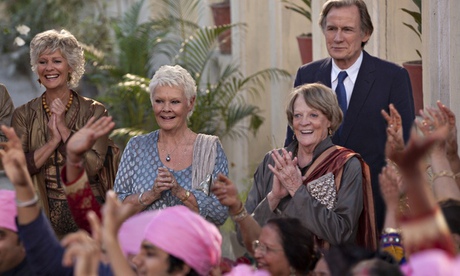 One of my favourite movies of all time is Best Exotic Marigold Hotel, starring Dames Judi Dench and Maggie Smith.
So how pleased am I to learn there is a sequel coming in the new year? Directed by John Madden (Shakespeare in Love), Second Best Exotic Marigold Hotel tells the story of hotel owner manager Sonny Kapoor (Dev Patel reprising his original role) embarking on a brand new venture, a second business.
It promises more adventures for the expat residents of the Indian retirement home and delightful "eye candy" in the form of new arrival Guy, played by the oh so handsome, Richard Gere. As he makes his first entrance, the man-loving Maude (brilliantly played by Celia Imrie in both movies) quips "Have mercy on my ovaries". Happily for me, the Dames return, together with Bill Nighy and Penelope Wilton.
The first Best Exotic Marigold Hotel was initially a sleeper, but became a box office hit earning $136m worldwide. When you consider it was an indie (independent) production, with a budget of only $10m, this is a very impressive take.
It was generally well-reviewed, although some of the glitterati were less than impressed. One of the not impressed was The Guardian's Peter Bradshaw, "The cast are spry, but this bittersweet comedy about English retirees in India needs a Stannah chairlift to get it up to any level of watchability," he opined. "It's a film which looks as if it has been conceived to be shown on a continuous loop in a Post Office queue".
Ad. Article continues below.
The late Roger Ebert, however saw it very differently, "How can I suggest what a delight this film is? Let me try a little shorthand. Recall some of the wonderful performances you've seen from Judi Dench, Maggie Smith, Tom Wilkinson, Bill Nighy and the others, and believe me when I say that this movie finds rich opportunities for all of them". To each their own; my good movie can be your bad movie and vice versa, just as you and I read a book and judge it differently.
Just to whet your appetite for the movie, check out the video below:
No release date yet for Australia, but I, for one, will annoy the distributors to get it in cinemas as quickly as possible.
Did you enjoy Best Exotic Marigold Hotel? Will you see the sequel?