Rolling Stones play full classic album at surprise show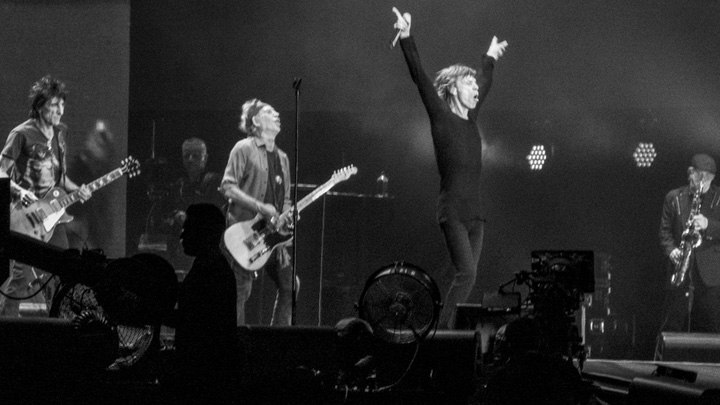 The Rolling Stones played a surprise gig in LA a couple of weeks ago, playing the full track list of one of their best albums, 1971's Sticky Fingers.
The gig took place at LA's small, intimate Fonda Theatre, on what was the first date of their 2015 American tour. Fans received tickets by following a few links on the Stones' website in the afternoon of May 20, and that night the very lucky few were in the audience to watch the show.
Ad. Article continues below.
The Stones opened with three songs, Start Me Up, When The Whip Comes Down, and All Down The Line, before launching into a track-track replay of Stick Fingers, with the exception of one song. Brown Sugar, probably the best song on the album, was played last instead of opening.
Here's the songs they played:
Sway
Dead Flowers
Wild Horses
Sister Morphine (first time played since 6 July 1998)
You Gotta Move (first since played 21 August 1976)
Bitch
Can't You Hear Me Knocking
I Got The Blues
Moonlight Mile
Brown Sugar
Ad. Article continues below.
For an encore the band jumped into Rock Me Baby (a BB King cover), Jumpin' Jack Flash, and I Can't Turn You Loose (Otis Redding cover).
The Sticky Fingers album is I think a candidate for the Stones' best album. It was something of a new start for them, having disentangled themselves from both a record label and a controversial rock and roll manager, Allen Klein. It was also the first time that the band's famous lips logo appeared.
It's also an album that has been getting a little bit of love and care recently. The Stones have recently re-issued the album in a number of versions. The basic album has been remastered, and various 'deluxe' editions feature love tracks, alternate versions, books, and photographs. One new version of Brown Sugar features Eric Clapton on guitar.
How envious of you of the people that were given tickets to this show? Have you ever seen The Rolling Stones live in concert? What is your favourite Rolling Stones album or song?