ROK's Flicks: The Wrecking Crew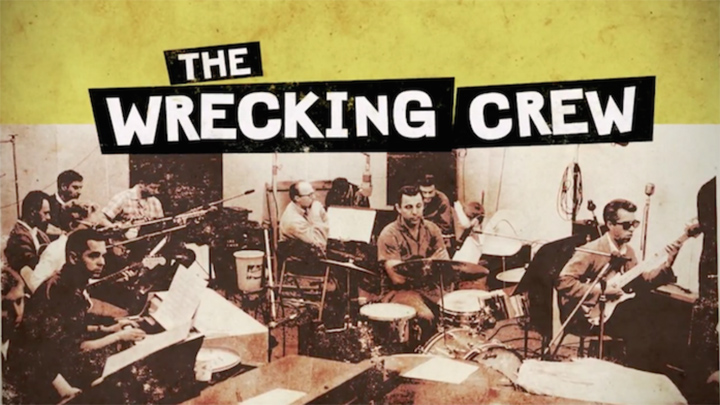 No, this film isn't about a demolition gang!
In the late 196's in Los Angeles, the stock-standard backing musicians for record companies in the studios were suited men playing stock-standard accompaniments.
Along came a group of individual musicians wearing Levis & t-shirts and smoking cigarettes – the studio band said "They're going to wreck the music industry" – hence, The Wrecking Crew was born!
This film details the way a loose group of 20 or more (even they themselves debated the exact number) gradually "infiltrated" recording studios and dominated most records of the late 60s and early 70s. Most of them started out as jazz musicians playing during the 1940s and 1950s honing their craft playing television themes, movie scores, jingles and incidental music. But someone would hear them and ask them to come to a recording and then it just snowballed for them. They became fluent in jazz, rock, soul and country.
They weren't credited on records and most people didn't know that the artists (like The Monkees) didn't play on their own releases. I wonder whether they now get royalties for their work – can't say I heard this discussed.
Ad. Article continues below.
It is especially great to hear and see clips of an interview with Glen Campbell, a Wrecking Crew regular who played for everyone from Frank Sinatra to the Mamas and Papas, and eventually toured with the Beach Boys — as a temporary replacement for Wilson, well before his own solo career took off.
Denny Tedesco, whose father, Tommy, was an acclaimed guitar player of the era, directs this sentimental documentary. Stars like Cher and Brian Wilson (The Beach Boys) are interviewed as character witnesses to the players' greatness. The musicians themselves speak most eloquently about their experiences and at varying times give us an illustration of their playing finesse.
The film begins with their most famous gig – session players on The Beach Boys' "Pet Sounds", playing "Good Vibrations" – recently portrayed in Love & Mercy
Stuffed with samplings of "golden oldies", the music is to die for – well, to re-live actually!
Foot-tappers like Frank & Nancy Sinatra's "Something Stupid" and Nancy's "These boots are made for walking'", Glen Campbell's "Wichita Linesman", Herb Alpert's Tijuana Brass' "Spanish Flea" and The Byrds' "Mr Tamborine Man" are just a few. There are over 100 songs in this doco, either mentioned or played – SIMPLY HEAVEN! And I guarantee you'll remember them all.
Ad. Article continues below.
The only female in this cabal was guitar bass player Carol Kaye – who is obviously admired by the guys – but as she states there was no sexism or bias towards her, she was just "one of the guys". She reveals that at the peak of their demand, she was earning more than the USA President in session work. Such was her acceptance.
The beat certainly does goes on – don't miss this one.
ROK'S RATINGS: 4 glass bubbly