ROK's Flicks: Learning to Drive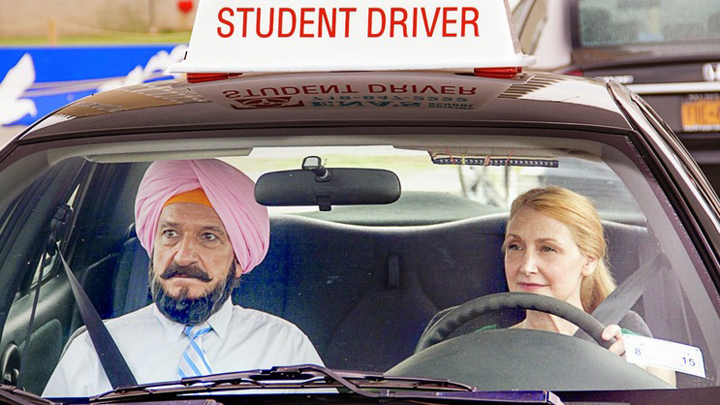 I remember learning to drive (admittedly about 45 years ago) but I definitely don't remember it being this entertaining!
Darwan Sir Ben Kingsley – "Gandhi") and Wendy (Patricia Clarkson – "Friends With Benefits"  & "Vicky Cristina Barcelona") take us along their journey, with poignancy, empathy and fun.
When we meet Wendy, a middle-aged literary critic, her husband has just "dumped her " at a restaurant. Together they get into a New York cab, Wendy crying and viciously screaming in the back seat at her soon-to-be-departing husband. The screaming fit when her husband breaks the news is well done. It is not too hysterical; I thought it a reasonably distraught expression of emotion… and the break-up obviously came out of the blue for her.
Darwan has been watching the tirade via the rear-view mirror. When his shift ends, he realises Wendy's left a package in the back seat. He returns the package to her, and though he won't accept a reward, she accepts his business card.
Darwan is a quiet Sikh cabdriver. He wears a turban, a beard and a look of stoic patience.
Ad. Article continues below.
He's now an American citizen originally from India who makes a living as a cabbie at night and giving driving lessons during the day. He lives in Queens, in a basement flat with other Indian men; he was a professor back home, but after gaining political asylum in the US, he can't return. But that's not stopping his family in India pressuring him to marry; he is too old to be alone, it is not proper, nor dignified.
Darwan struggles to come to terms with his new life, and his new wife, courtesy of the Sikh traditions of arranged marriages. Jasleen (Sarita Choudhury – "Homeland" TV series) arrives from India and is adrift in New York, knowing barely a word of English and left alone in their apartment so Darwan can work both of his jobs. Both of them are unhappy with this arranged marriage and Darwan is uncertain how to behave with this stranger who now shares his bed.
Wendy has a daughter Tasha (Grace Gummer – Meryl Streep's daughter) studying upstate. How is she ever going to be able to visit her now? Wendy realises it's time to learn to drive. And so she calls Darwan.
As Wendy and Darwan get to know each other, a kind of innocent friendship ensues. Now and then, over wine or a walk down a Brooklyn boardwalk, the glimmers of a possible romance surface. But the relationship that develops between these two people is that of platonic friends, and it's inspiring to watch this develop.
There are some amusing scenes of Wendy's inability to keep her mind on the driving lesson and off her husband's infidelity. Also, a funny scene of tantric yoga sex with a new date ("I'll come next time. Or the time after that…")
Ad. Article continues below.
Learning to Drive is a story of companionship, loneliness, and resilience. It's a smart, sassy, well-made, character-driven film that is not just about adults, but for us as well.
ROK'S RATINGS: 4 glasses bubbly