ROK's Flicks: Last Cab to Darwin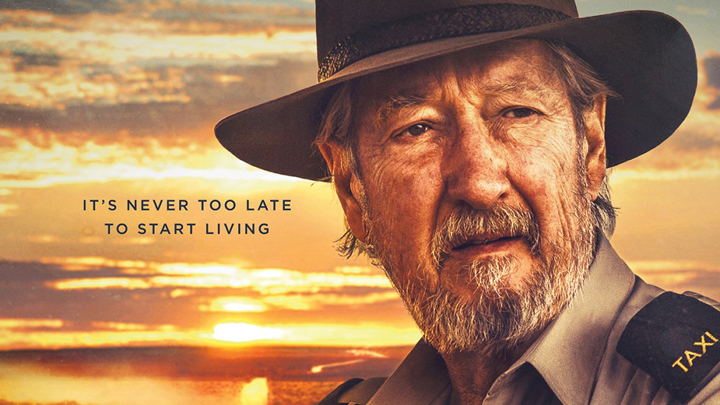 When we first meet Rex (Michael Caton, a character not unlike Darryl Kerrigan in The Castle) – he's sitting on his front verandah being berated by his neighbour Polly (Ningali Lawford Wolf – Bran Nue Dae & Rabbit Proof Fence) about his wandering dog "named dog, coz Rex was taken" and his household rubbish ending up in her bins.
They have a wonderful but secretive, "on the sly" mixed-race relationship in Broken Hill, where Rex is a cab driver. He knows everyone and everyone thinks they know him. Rex's stomach cancer has returned with him being given "about 3 months at best".
By chance he reads a news article and sees a TV interview with Dr Nicole Farmer (Jacki Weaver) who has campaigned heavily in Northern Territory to have voluntary euthanasia approved.
So without telling Polly nor his best friends he packs up the house, cleans the cab and sets out to drive the 3000km to Darwin.
He interrupts a radio interview Dr Farmer's conducting to tell her he's on his way. She tells him to keep his fluids up, so Rex buys a six-pack and sets off.
Ad. Article continues below.
The drive takes him via Oodnadatta where he meets Tilly (Mark Coles Smith) a loveable larrikin whose life has gone off the rails, but whose ambition in life is to get to Darwin to play AFL football. Keep and eye out for a couple of cameo appearances by Brian Taylor (BT, an AFL/TV commentator) and Brendan Cowell (The Slap, Beneath Hill 60)
Along the way he takes a detour to Daly Waters Hotel where he grew up.
Here, he takes ill. But when barmaid Julie (Emma Hamilton, a UK-based Australian actress – she played Queen Anne in The Tudors), an English nurse backpacking around Australia, assists him, she is sacked. He tells her of his Darwin plans and she agrees to travel with him: "I've got nowhere better to be".
The film is written by Reg Cribb, adapted from his early 2003 play of the same name together with Jeremy Sims, who also directs this. I don't know of Jeremy Sims' work, but on IMDB he has 41 credits to his name for acting, but I'm positive we'll see a lot more from him.
The scenery is very reminiscent of "Red Dog". So if you loved that film – like most of Australia did – this film is for you. If you are a "grey nomad" this film is for you too – and you may even be in it.   The cinematography is superb, the colour and "space" is beautiful. The local towns' people are engaging and look like they really enjoyed the opportunity to "star". I did notice that other than Rex, most of the passengers often didn't wear seat belts!
Ad. Article continues below.
Ed Kuepper's soundtrack is a little bit too "country" for me – but still, it fits into the background as required.
This isn't a miserable or depressing film – even though you'll tear-up. It's funny, sad, enlightening, informative, and in no way is it judgemental RE: right-to-life or euthanasia.
I was interested to read Dr Phillip Nitschke's comments (the euthanasia supporter/advocate) about the comedy film not being a true legacy for Max Bell's fight, whose story the original play and now the film is based on. I don't agree.
Yes, it's comedy, yes there's funny situations, yes it's a light treatment of the topic but I don't think it makes fun or belittles the fight people are making.
There is a lot more in the film than just euthanasia – there's the great Aussie spirit, there's race relations, and now there's the travel industry's next ad campaign!
Ad. Article continues below.
ROK'S RATINGS: 5 glasses of bubbly – this is a bloody ripper!
Tell us, will you see Last Cab to Darwin?