ROK's Flicks: A very light-hearted comedy aimed fair-and-square at the middle-aged middle-classes...and it succeeds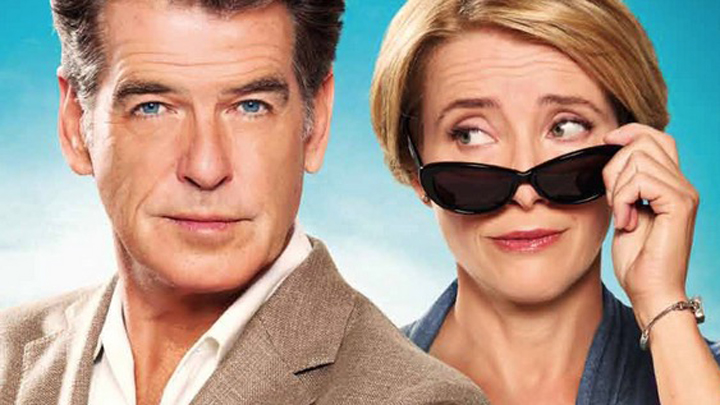 I saw The Love Punch at Seniors Films at ACMI at Federation Square, Melbourne last week (released 2013) but it's surely on DVD or Foxtel now.
Romantic comedies are always schmaltzy but it's great to see one geared toward us older generation.
Divorced couple Richard Jones (Pierce Brosnan) and his ex wife Kate (Emma Thompson) discover an unscrupulous Frenchman Mr Vincent Kruger has swindled their company and theirs and the staff's pension fund is now non-existent: they decide to confront him in Paris to "steal back what is rightfully ours".
While in her hotel room in Paris, Kate sees a TV news report that Kruger has recently purchased a 2 million pound diamond and is having it made into a necklace for his soon-to-be bride to be worn on her wedding day…Ah ha! The plot thickens.
Kate devises a totally over-the-top impossible but oh-so-funny scheme where she recruits best friends and neighbours, Jerry (Timothy Spall) and Pen (Célia Imrie), to head to Paris and the Cote d'Azure, pretend to be Texan millionaires at a wedding (some dressing up and use of bad accents), infiltrate a cliff-top chateau (scuba gear and scaling a rock face) where the wedding is being staged and switch the diamond with a fake.
Ad. Article continues below.
Their son, via Skype, is co-opted unwittingly to "hack" hotel databases, caterer's guest lists, and telephone systems, all the while very happily doing it because he thinks his parents are back together.
And of course, there's the obligatory car chase – screamingly funny. Isn't there always a car chase in every Parisian movie? The soundtrack is not too bad either; lots of 80ss tunes re-vamped. 'Me & Mrs. Jones', 'Whatever You Want', 'I Fought the Law and the Law Won' are a few that I am still humming.
Along the way, Kate decides she needs to have a fling with a Frenchman she met online. It's inferred many times during the film that Richard cheated on her before they divorced, so maybe this is payback time.
Despite The Love Punch being a heist comedy where stealing is a major plot device, the conspiracy isn't solved by stealing. In fact kindness and doing the right thing are what win the day… a bit mushy at the end, but so what? It's a feel good movie!
British actors Brosnan and Thompson share great on screen chemistry as the romantic leads. Together they have great rapport and timing, bouncing and feeding off each other – it gives us the impression these two were at some point happily married.
Ad. Article continues below.
Spall (Mr Turner) and Imrie (Best Exotic Marigold Hotel, Second Best Marigold Hotel) are just as superb. In fact I thought the pace and comedy improved when they entered the story.
There are some hilarious situations. But it is as improbable as any of the 007 movies – maybe Pierce Brosnan has taken a liking to the James Bond character.
The scenery is magnificent and if you have ever visited Paris, it is a wonderful travelogue.
The Love Punch also contains some bad language, though much of it is light. So, caution is warranted if that could offend.
Ad. Article continues below.
ROK's Ratings: 3 glasses bubbly
Tell us, have you seen The Love Punch? What did you think of it?