ROK's Flicks: 5 Flights Up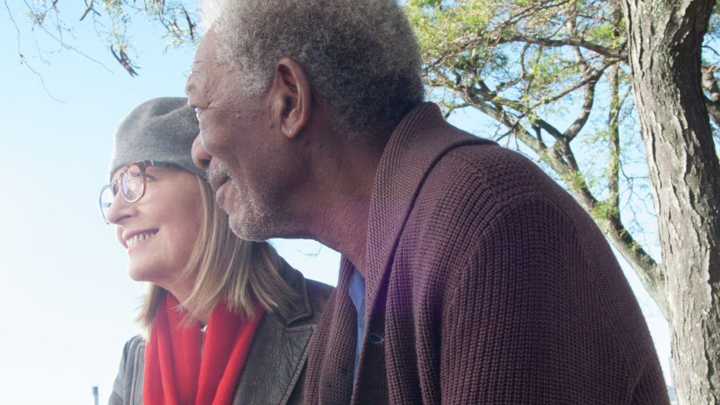 You know how sometimes you just want to put on some "easy listening music"? You don't want to concentrate too hard, it's mellow, you feel good, you've heard it all before but still enjoy it?
Well 5 Flights Up is like that!
Happily married for 40 years, Alex Carver (Morgan Freeman – The Bucket List, Shawshank Redemption), a moderately successful painter, and his wife, Ruth (Diane Keaton – Something's Gotta Give, Annie Hall) a retired schoolteacher, have lived in the same two bedroom apartment for forty years. A comfortable fifth floor apartment, with no lift. 
They met when Ruth was a student earning extra money for college expenses by doing part-time modelling, Alex hired her to pose for a painting and as the saying goes "that was that". This was back in the day, when inter-racial couples weren't encouraged. (In flashbacks, we see her family's objections: "What about your children?")
Ad. Article continues below.
Negotiating five flights isn't as easy as it used to be, especially for Alex. They had no children but have a much-loved elderly dog Dorothy, and they have come to the realisation they will eventually have to move to a building with an elevator. 
This neighbourhood has become the latest "must live" area and real estate prices have skyrocketed! The value of their apartment is now around $1 million so the temptation to cash it in is almost irresistible. 
Their broker from hell is Ruth's niece, Lily, played by Cynthia Nixon (Miranda from Sex and the City) who introduces a "motley crew" of shoppers and browsers – people who hate the fixtures, demand crown mouldings, make rude remarks, and bring their dogs and their brats along for the viewings. 
Running simultaneously, are two other stories. 
Dorothy, the dog has to have expensive tests followed by even more expensive surgery to repair a disc problem and the 'will we? won't we?' spend $10,000+ on her treatment becomes a sore point. 
Ad. Article continues below.
Also, there is a sensationalised story developing on the TV of a possible terrorist attack. The driver, a young man from Uzbekistan, flees the scene of his abandoned jack-knifed semi-trailer, sparking a manhunt and fears among New Yorkers and any prospective buyers at the open day who recall 9/11 as if it were yesterday. 
So, it's a very busy 2-3 day period in this simple & light yet enjoyable film. There is an inordinate amount of time spent on phone conversations – especially with the Vet … they do at times become tedious. You get the feeling that Morgan Freeman isn't really acting – this is him! His casual style is very low key and likeable but 'Alex' lacks the depth of the characters we usually see him play. 
This isn't a "must see" film – but a good one to fill in a day. It's a comedy drama, sentimentally ending with Van Morrison's song "Have I Told You Lately That I Love You" 
ROK'S RATINGS: 2 1/2 glasses bubbly
Tell us, will you be seeing 5 Flights Up?
To write for Starts at 60 and potentially win a $20 voucher, send your articles to our Community Editor here.