Putting life into her death: Joan Rivers' life celebrated in style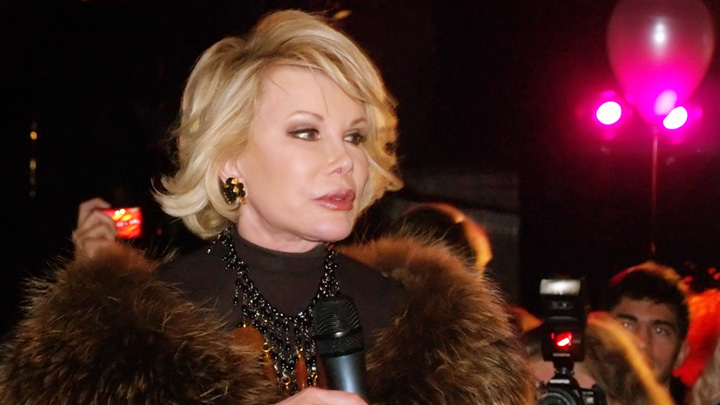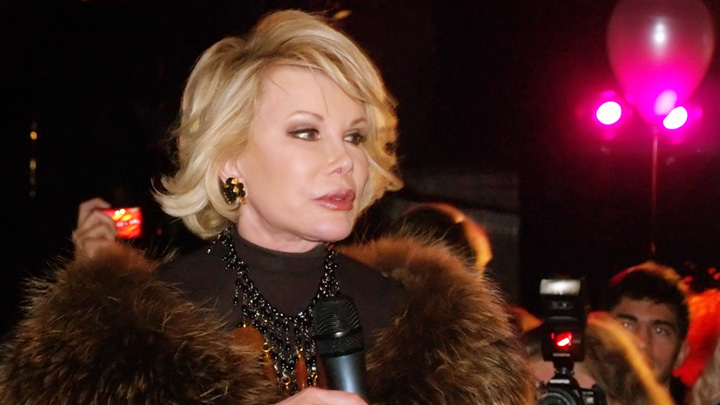 We like to keep it light here at Starts at 60 but Joan Rivers' traditional shiva over the weekend was too beautiful to not talk about. Joan's second farewell embodied what we like to celebrate at Starts at 60: life.
The hilarious comedienne tragically died on September 4 after a routine throat surgery went awry. She is survived by her only child, Melissa, and her grandson Cooper, but they made sure she lived on at her funeral and her Jewish shiva this weekend.
Always speaking with her tongue firmly in her cheek, Joan's list of demands for her two memorials were met: she didn't want singer Adele, talk show host Chelsea Handler or First Lady Michelle Obama to attend. She also outlined her wishes in her book I Hate Everyone…Starting With Me, where she wrote, "I want my funeral to be a huge showbiz affair with lights, cameras, action…I want paparazzi and I want publicists making a scene! I want it to be Hollywood all the way. I don't want some rabbi rambling on; I want Meryl Streep crying, in five different accents. I don't want a eulogy; I want Bobby Vinton to pick up my head and sing Mr. Lonely. I want to look gorgeous, better dead than I do alive. I want to be buried in a Valentino gown and I want Harry Winston to make me a toe tag. And I want a wind machine so that even in the casket my hair is blowing just like Beyoncé's".
While Meryl Streep didn't star in her greatest role, there were jokes and laugh galore at her funeral in New York, and that's what Joan would have wanted. That's what we love about this take on the traditional funeral – Joan Rivers put the fun back into funeral.
Ad. Article continues below.
Even our own Hugh Jackson sang "Quiet Please, There's A Lady On Stage" and he described the experience as uplifting and funny – not your average review of a service!
Joan was Jewish and as is tradition, 7 days after her death a shiva was held. Shivas, like funerals, are usually quite sombre but in true Joan Rivers style, she wasn't going to have a blubbering crowd, instead the Los Angeles event was a star-studded event with memories and a lot of laughter.
The Daily Mail reports that a close friend of the family told them that it wasn't a part, but a celebration.
Actress Lily Tomlin also told the Daily Mail that "Everybody's discussing her like she's still here — and in a way, she is".
What a wonderful thing – putting life into a death. At the funerals I have attended, it's be far too heartbreaking for relatives to speak let alone laugh, however, like Joan's memorials, I have seen family fathering and telling stories at the wake and it really shows that death is inevitable, but it's how the person lived their life that is important. Joan may have had a controversial tongue, but she was a mother, friend, grandmother and daughter. She was beloved for being her and her arrangements made before she went will no doubt help her family grieve…their last memories of her will be the laughs and smiles she gave everyone.
What do you think of Joan's memorial services? What do you want your legacy to be? Have you made any wonderful arrangements for when you pass? Tell us below.