Protesters storm the stage as Ryan Lochte performs on Dancing with the Stars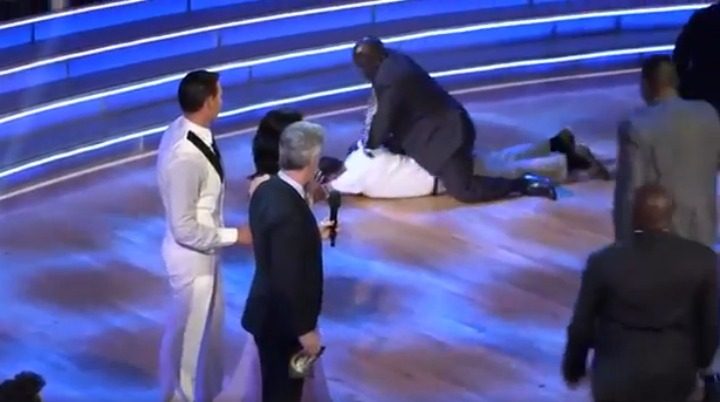 He's on the campaign trail to rehabilitate his public image, but it looks like there's a long road ahead for Ryan Lochte who's first big moment back in the spotlight was marred by drama.
The disgraced American swimmer had just finished his foxtrot with dance partner Cheryl Burke on the new American season of Dancing with the Stars and was waiting for the judges feedback when two men rushed the stage shouting "liar, liar" and wearing t-shirts emblazoned with "anti-Lochte" slogans.
As a stunned Lochte watched on, the security ran onto the stage and crash tackled one of the men to the ground.
He was handcuffed and marched off stage along with the second man, but it wasn't over yet.
A larger group of protesters were sitting in the stands and loudly shouting "liar!" across the room at Lochte.
Ad. Article continues below.
While many people in the audience tried to drown them out with boos, it was Bindi Irwin's former dance partner Derek hough who stepped in and shut them down.
He can be seen on camera marching over to them and waving them off, yelling "Get out of here, come on. Get out of here. This is a good show, a positive show."
The protesters then get up and leave the room.
Since Dancing wiht the Starts is filmed live, the show was forced to cut to a commercial break suddenly.
When they came back Lochte said he was "hurt" by the incident.
Ad. Article continues below.
"I'm doing good, [the are] so many feelings are going through my head right now."
He added he was "a little hurt."
"I came out here and wanted to do something I'm completely not comfortable with and I did and I came out here with a big smile," he said.
While there are many condemning the protestors for the stunt, others are applauding them and say they have a point.
There are questions from some asking why Lochte is being given a stage to promote his 'mister nice guy' image.
Ad. Article continues below.
"Another example of celebrities getting away with bad behaviour just because they're famous," said one commenter.
After seeing it all on video, what do you think?
Does Ryan Lochte deserve this second chance? Or is he getting off too easy?