Princess Mary and Prince Frederik show off their dance moves at glamorous ball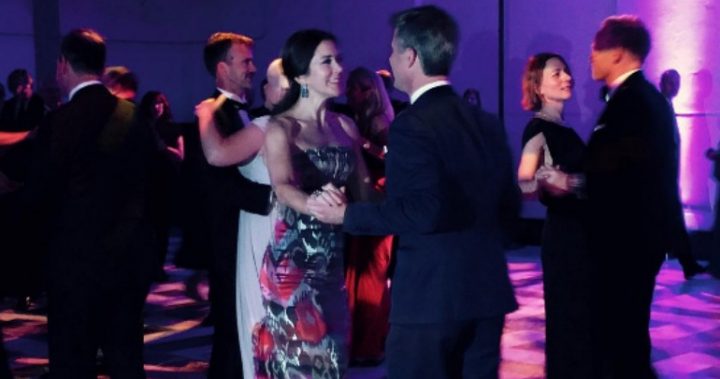 Princess Mary and Prince Frederik have enjoyed a glamorous night out on the town in Washington DC, dancing up a storm and having a great time doing it!
The Danish Royals are currently in America on a business tour as the two countries celebrate a trade deal and capped off their visit with a formal ball.
The ball was held at the Smithsonian Arts and Industries Building and offered the perfect chance for the couple to let their hair down and have some fun.
Ad. Article continues below.
Mary looked stunning in a bright print dress, which she previously wore when she was in New York in 2009, while Frederik kept it sharp in a navy suit.
It was Frederik who really seemed up for a good dance, pulling Mary in and spinning her around the floor as she happily laughed and joined in.
A live band was playing Stevie Wonder's 'Isn't She Lovely' and it didn't take long for the rest of the guests to join them on the floor.
It's the couple's last night in the US before they head home to their four children who have just started back at school for another year.
Mary and Frederik celebrated their 16 anniversary together in August and it looks like the romance is still well and truely alive for the pair, which is lovely to see after all this time!
What do you think of their moves? Are you a fan of Mary's style?