Paul McCartney admits what he really thought about Yoko Ono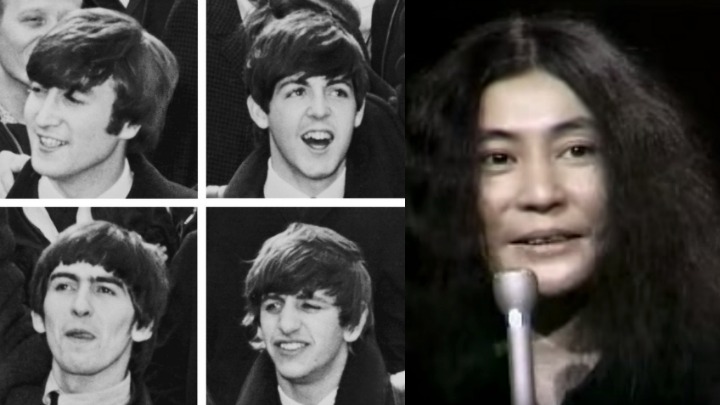 Yoko Ono has been vilified for decades as having caused the break up of The Beatles but they never really revealed what they felt about the then young Ono who became one of the boys.
Now, years after the earth-shaking break up, Paul McCartney has admitted that the band did feel uncomfortable at Yoko Ono's constant and continued presence within the band after she got together with John Lennon in the 1960s.
"We were kind of threatened [then]," McCartney told journalist David Fricke of Rolling Stone magazine in a new interview.
"She was sitting on the amps while we were recording. Most bands couldn't handle that. We handled it, but not amazingly well, because we were so tight.
"We weren't sexist, but girls didn't come to the studio – they tended to leave us to it," said McCartney.
Ad. Article continues below.
"When John got with Yoko, she wasn't in the control room or to the side. It was in the middle of the four of us."
After John broke up from his first wife Cynthia, Yoko famously started attending studio sessions for The White Album.
The Beatles released three more albums  after that – Yellow Submarine, Abbey Road and Let It Be and in 1970, they officially split, reports Daily Mail.
Given how he felt in the past, how does McCartney feel about Ono now? These days Paul says his relationship with Yoko is "really good", with the star even referring to the avant-garde artist and George Harrison's widow Olivia as honorary members of the band, telling Rolling Stone; "the two girls are Beatles."
However, McCartney admits it took some time for him to get used to Yoko's presence.
"My big awakening was, if John loves this woman, that's gotta be right," he reveals. "I realised any resistance was something I had to overcome. It was a little hard at first. Gradually, we did. Now it's like we're mates. I like Yoko. She's so Yoko."
But does McCartney blame Yoko for the band's demise?
Ad. Article continues below.
"She certainly didn't break the group up," he previously told Aljazeera. "The group was breaking up and I think she attracted John so much to another way of life that he then went on to, very successfully, add a sort of second part to his career, writing things like Imagine and Give Peace a Chance. I don't think he would have done that without Yoko."
In 1980, John was shot by Mark Chapman and tragically died aged 40, in New York City.
At the moment, Paul is in the midst of his One On One world tour, which concludes in California, where he'll play two Desert Trip concerts along with Neil Young, The Rolling Stones, Bob Dylan, The Who and Roger Waters, this October.
Watch fans go crazy during this performance…
What do you think caused them to really break up?