Our Princess Mary dazzles, exhibits, and educates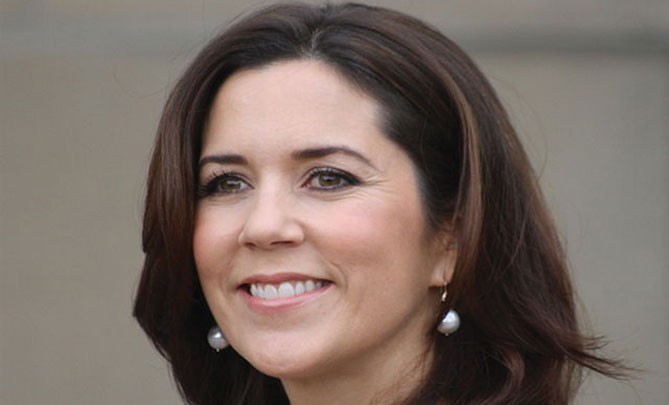 Australia's – and, to be fair, Denmark's – Crown Princess Mary has stepped out in fine style at the 2015 Reumert Awards for the performing arts, at The Royal Danish Playhouse in Copenhagen.
Accompanied by Prince Frederick, Princess Mary wore a Rabens Saloner Long Embroidered Kimono, over which she wore a long white shawl. Shoes were a pair of gold Gianvito Rossi pumps, well-matched with her gold Judith Leiber clutch. Bling was a Ole Lynggaard Leaves Ring and, somewhat fittingly, a pair of Alma e Coração's Queen earrings.
Dressed up to the nines she may have been, but as ever she mixed easily and casually with the large crowd of onlookers outside the Playhouse.
Last night, Crown Prince Frederik and Crown Princess Mary attended the Reumert Awards at the Royal Danish PlayHouse pic.twitter.com/xIrqX3i33H

— Royaltyspeaking (@Royal_talk) June 22, 2015
Ad. Article continues below.
It has been yet another very fashionable week for Princess Mary, as days earlier she attended a showcase of previous ensembles that she has worn to major events.
Last Friday she attended 'Danish Fashion Now' at Brandts Museum of Photographic Art, in Odens, Denmark. The building was formerly a textiles factory, so it is more than an apt location to show off 10 of Mary's Danish-designed dresses. Not photographs of dresses, but the actual outfits, in an exhibition not only highlighting Mary's style, but also giving a boost and seal of approval to her local fashion industry.
Yesterday while in Odense, Crown Princess Mary also visited the 'Danish Fashion Now' exhibition. pic.twitter.com/NVesQwRE1M

— Scandinavian Royals. (@crownprincely) June 20, 2015
Her Friday wasn't just about fashion, as earlier in the day she attended The Summer Book, at the Odense Library. The Summer Book, or Sommerbogen, is a competition encouraging Danish kids aged 7 to 14 to read as many books as they can from 19 June to August 22.
Ad. Article continues below.
Crown Princess Mary today opened the Childrens Library as part of "Summer Book 2015" in Odense pic.twitter.com/fm8zopZwLG

— Royaltyspeaking (@Royal_talk) June 20, 2015
So there you have it, our Princess, mixing coolly and casually with society, fashion elite, and kids. She really is the People's Princess!
Do you think she's doing a great job of essentially being both a Danish Royal AND an Aussie ambassador?