Our five favourite Human Nature moments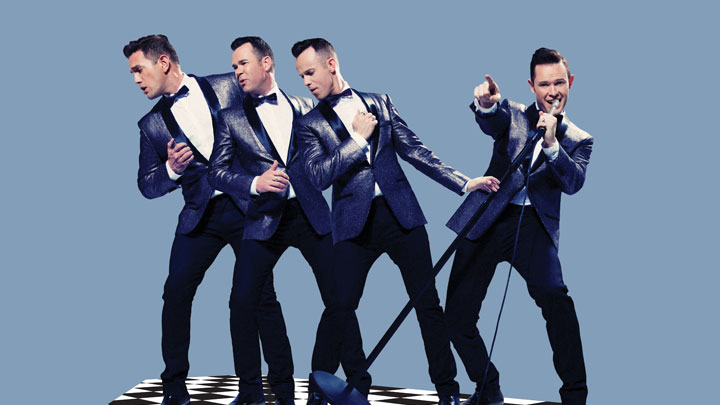 Human Nature have come a long way since their early pop days. Over 26 years, the onetime boy band has matured into a hugely successful and critically acclaimed Las Vegas residency headline act, reinventing '50s and '60s jukebox classics night after night with incredible energy and showmanship.
Now, with more than 1,465 Vegas performances under their belt, Human Nature are coming back home with a spectacular new show for their Australian fans – the biggest live showcase they have ever assembled. Click here to learn more.
Their Australian show promises something for everybody: a suave selection of jukebox classics from our youth; smooth doo-wop, Motown and soul standards; modern-day pop covers – and of course, the original Human Nature hits that launched them on this unlikely journey.
Let's take a look back at some of Human Nature's most memorable moments from over the years…
Tellin' Everybody (1996)
Ad. Article continues below.
This original pop hit was absolutely everywhere in the mid- to late-90s, and remains on many radio rotations to this day.
Human Nature's catchy melodies proved they could comfortably hold their own against the boy bands dominating the charts at the time, but their mature vocal harmonies made it clear from the start: they were destined for something far longer-lasting.
Eternal Flame (1999)
Ad. Article continues below.
Human Nature have always had a knack for reinventing the classics. Their current live Jukebox performances span everything from Under the Boardwalk to Uptown Funk; there's nothing they can't inject with added creativity and fun
This gentle Bangles cover was a great sign of things to come, bringing a whole new level of richness and warmth to the 60s classic. But few would have expected this tender ballad to lead to such an energetic new sound…
Reach Out I'll Be There (2005)
After experimenting with a more contemporary pop style in the early '00s, the boys reinvented themselves yet again in 2005 by looking back to their own personal influences from the 1960s.
Ad. Article continues below.
The title song from their first Motown album – a cover of The Four Tops' timeless favourite – set the stage for a whole new career trajectory that would take them to stardom in the States.
Runaround Sue (2014)
This is today's Human Nature: a group many Australians have yet to properly meet.
Human Nature's first Jukebox album showed just how serious they were about celebrating '60s pop classics. This hugely energetic doo-wop cover cemented their current sound, becoming one of the bigger crowd-pleasers in their US shows – and a great sign of what we can expect from their upcoming Aussie tour spectacular. The group are bringing their talented US band, together with Dancing With The Stars popular stars Aric Yegudkin and Masha Belash to deliver a brand new blockbuster show.
Ad. Article continues below.
Forgive Me Now (2016)
For all their success with cover versions, Human Nature remain formidable songwriters in their own right. This soulful, timeless Al Green-style ballad sits very comfortably alongside the classics.
Human Nature's The Ultimate Jukebox tour will be playing at the following locations. Don't miss this rare chance to discover the fun and variety that wins over American audiences to this day.
Geelong Arena, VIC – 2 Feb (Limited seats left)
Margaret Court Arena, VIC – 3 Feb
Margaret Court Arena, VIC – 4 Feb
Derwent Entertainment Centre, TAS – 5 Feb
Adelaide Entertainment Centre, SA – 7 Feb
AIS Arena, ACT – 10 Feb
ICC Sydney Theatre, NSW – 11 Feb
Brisbane Convention & Exhibition Centre – 13 Feb
Newcastle Entertainment Centre – 15 Feb
Perth Arena – 18 Feb
Book Now at Ticketek (all locations except Hobart)
Book Now at Ticketmaster (Hobart only)
 What is your fondest Human Nature memory? Are you looking forward to their new Australian tour? Share your thoughts in the comments below