One of the most beautiful stories we have ever heard...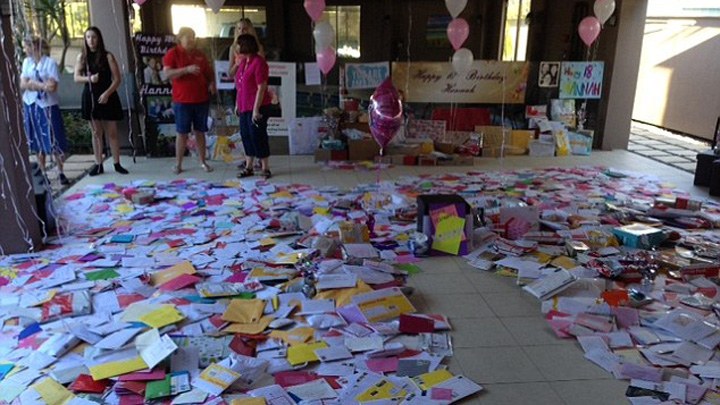 Your 18th Birthday is special for anyone. I can remember mine… It was the first time I felt like a true "lady". We had dinner with the family, I had a party, there were photos and there were gifts that I was very lucky to receive… Not to mention my first legal alcohol drink!
But one father has gone above and beyond in an attempt to make his beautiful daughter have the best 18th Birthday yet.
Hannah Sullivan suffers from down syndrome and her Dad, Bruce wanted to make sure that her 18th Birthday was a true celebration. So, he called out on his Facebook page one month ago for cards from his family and friends so she could feel the love.
But what happened next was not expected… His message went viral. All over the world in fact, and soon there were hundreds of letters turning up each day. Eventually he received so many he had to start hiding them! One Direction sent her a present and the Wiggles left a voice recorded message too.
Ad. Article continues below.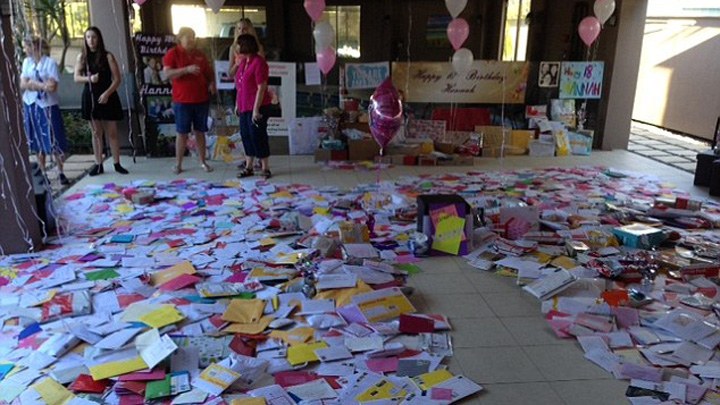 Her Birthday was yesterday and as Bruce lead her downstairs, there were camera crews from the Today show waiting to capture her reaction.
"We're so proud of Hannah. You're such a courageous, beautiful young lady who has had a go at everything and now you can have a go at opening 13,000 letters," Mr Sullivan said.
"It's very sweet dad,: Hannah said as she hugged her father.
Ad. Article continues below.
Mr Sullivan told Channel 9 that it had "just been an outpouring of generosity" and that Hannah hadn't had a clue about the whole surprise. 
Hannah's family hoped that the widespread support for their daughter would encourage people to include those with a disability. 
"Hannah personally has not been invited to a birthday party other than immediate family since she was in Grade 4. She's not intentionally excluded she's just rarely included." Mr Sullivan said.
So Hannah, from the Starts at 60 community we wish you the happiest of birthdays!
It is amazing that in a time when the media is swamped with terror and death, there is some light that comes from the beautiful, real people around us.
Ad. Article continues below.