One of the best movies I've seen in a long time: Woman in Gold with Helen Mirren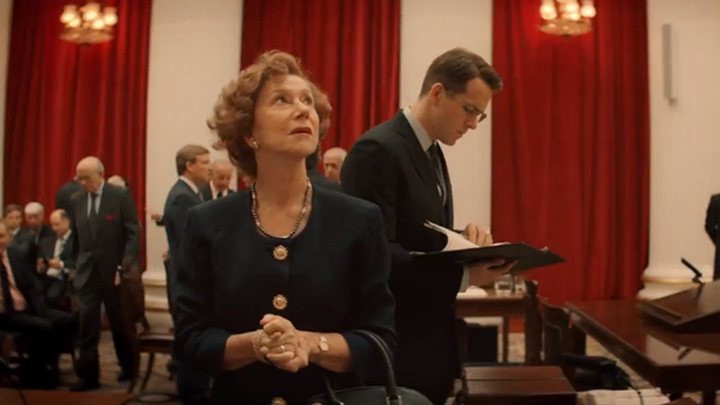 From where we sit, it is difficult to imagine the salons of Europe where musicians, writers, composers, academics and other literati met to talk, drink and debate. It is even harder to imagine being a little girl in your Aunt's Viennese salon which attracted the likes of composers Gustav Mahler, Richard Strauss, Johannes Brahms, Author Franz Werfel, Architect Otto Wagner, Politician Karl Renner and artist Gustav Klimt.
Maria Altmann (nee Bloch) was that little girl. Her story is not altogether unusual for the times; family wealth, paintings, jewellery, antiques stolen by the Nazis. What family can, escape Germany; many others are not so lucky.
What makes her story different is Maria, an octogenarian Jewish refugee, takes on the Austrian government to secure the restitution of some of her possessions, in particular the portrait commonly known as the Woman in Gold. Maria knows this painting as Portrait of Adele Bloch-Bauer, by Gustav Klimt, a painting of her much loved, deceased Aunt Adele.
Such is the basis of one of the best movies I've seen in a long time. Woman in Gold works on so many levels.
It goes without saying that the performance from Helen Mirren is superb. We have come to expect nothing less of this talented woman. Her Altmann is both endearing and abrasive; a practical woman, who is nonetheless terrified of returning to her country of birth.
Ad. Article continues below.
Ryan Reynolds plays Maria's lawyer, Randol Schoenberg, great grandson of the composer. Reynolds is an actor whose film credits don't particularly attract me, so I had no expectations of him. What a surprise! He has the talent not to be acted off the screen by Mirren and gives a well-controlled, strong performance.
Daniel Brühl, as investigative reporter Hubertus Czernin, Tatiana Maslany as the young Maria, Justus von Dohnányi as Toman, Elizabeth McGovern as Judge Florence-Marie Cooper and Charles Dance as Sherman are excellently cast, but there is not an actor in the film unworthy of their role.
Director, Simon Curtis has brought out the best in the actors, each brings realism to their roles. He has a wonderful eye for framing a scene and visually we are served a treat.
Everything works in this movie; every element, music, costumes, casting creates a film of visual beauty and acting excellence. As you may have guessed, I loved it and will definitely see it again in the cinema before its season finishes.
Ad. Article continues below.
Woman in Gold
Starring Helen Mirren, Ryan Reynolds and Daniel Brühl
Directed by Simon Curtis