One man has taken a stand to stop 2016 from taking Betty White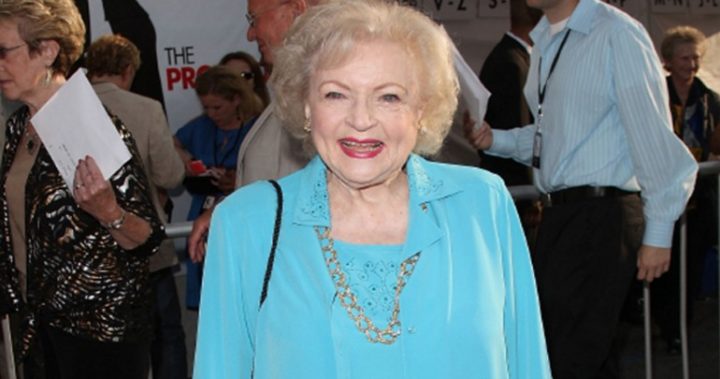 Seeing the long list of lost legends this year, a South Carolina resident has decided that the world's beloved grandmother, Betty White, will not be among them. On Tuesday, Demetrios Hrysikos launched a crowdfunding campaign to protect White from 2016. Initially, Hrysikos was hoping fans will cough up US$2,000 to pay for his efforts but just a day after he launched the fund, it has already achieved the goal twice over at US$4,152.
Hrysikos says that he would like to use the money to keep White safe: "If she's OK with it, I will fly to where ever Betty White is and keep her safe till Jan 1 , 2017." Hrysikos promised on the GoFundMe page.
In the event that White would prefer not to have "a strange Greek standing guard outside her door," Hrysikos said all proceeds from the fundraiser will be donated to the Spartanburg Little Theatre .
"2016 has taken so many great artists, and SLT helps support and nurture new budding talent in our town," Hrysikos explained in an update on GoFundMe.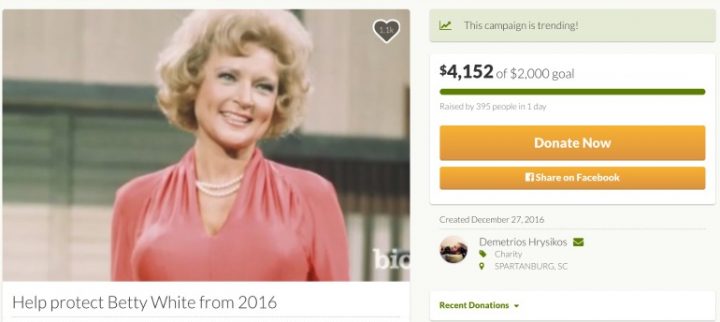 Ad. Article continues below.
Not everyone convinced of Hrysikos' generosity, though. "Such a scam. Donate to the theatre directly if you want to," one detractor wrote on the GoFundMe page. But Hrysikos clarified in an update on the page, saying: "Other than liking to support our local arts and having a friend who works at the little theater I don't have any connection to it, I just thought it would be a good place for any money made to go.
"I'd like to think that Betty , Carrie, and Bowie would be happy with any proceeds going to that cause , which I assure you it WILL!
"This has been unexpected but let's make it a good thing ! We need new artists to carry the mantel of all the great ones we lost this year so keep sharing and donating to ensure a better 2017 for the arts.
Many defended the seemingly random act of kindness. One commenter said, "If I had the funds, I would donate just based on the fact that this wonderful man made me laugh during what is obviously one of the worst years."
Betty White fans have also taken to social media to express their concern over Betty.
Ad. Article continues below.
Betty White is known for her roles on 'The Mary Tyler Moore Show' and 'The Golden Girls'. The 94-year-old's recent credits include starring in the series 'Hot in Cleveland' as well as a guest appearance on 'Bones.'
Many generation-defining stars have died in 2016, from David Bowie and Alan Rickman in January to George Michael and Carrie Fisher within just days. Prince, Florence Henderson, Gwen Ifill, Leonard Cohen, Gene Wilder, Alan Thicke and Muhammad Ali are just some of the notable figures we've lost over the last 12 months.
What do you think of this fans move? Would you support it?