Older rockers still got loads of 'Good Times' left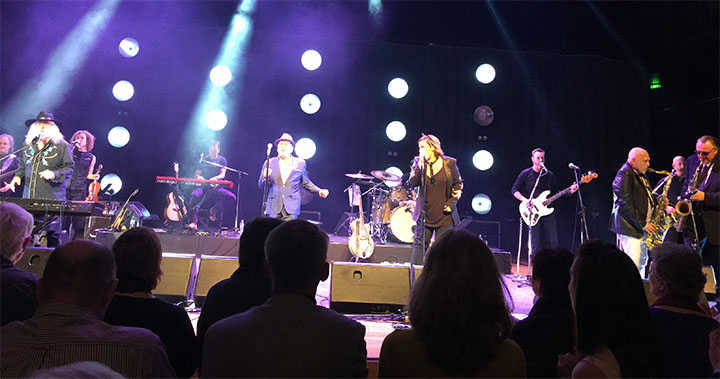 A batch of Australian musicians have been touring the country this month, showing you're never too old to rock. Joe Camilleri, Brian Cadd, Glenn Shorrock and Wilbur Wilde were joined by Kate Ceberano on stage to belt out some of their finest tunes on the Apia Good Times Tour. And you couldn't help but leave the concert with a massive smile on your face.
It was a night for Australian music, and without a doubt I knew and enjoyed every song. Each singer transformed their old timer music into new time moments, grooving it up on stage with saxophone extraordinaire, Wilbur Wilde who had to be seen to be believed.
Joe Camilleri, who has been a feature of this annual tour for some years got out there and belted his greatest hits, kicking off with Holley and Rose. Before the show at a meet and greet he chuckled that at his humble age of 66 everything aches a bit more and says he's struggled with low grade pain for 15 years, but he loves getting out there. He looks as fit as a fiddle, but there was no beer in his hand before he went on stage, instead opting for a piping hot coffee. The singer best known for his solo work and his role in The Black Sorrows has a 3 and a half year old who he says keeps him on his toes.
Ad. Article continues below.
He laughed that he has known Kate Ceberano who he plays alongside on the tour since she was 15, when she auditioned for him a little pissed one day and he told her to "get out". Together they belted out some amazing tunes in terrific harmony. Glenn Shorrock is celebrating his 50th year in the music industry this year and is so well-loved for his Little River Band music.
He hopped up and sang "Little Ray of Sunshine" and everyone's hearts melted away to liquid. "I'm 70 now" he stated proudly, and his vouce, unlike so many other older musos, has not aged a bit.
Brian Cadd definitely came with his sense of humour in tact. He was full of quips backstage before the show, then on stage he had a one liner for every empty moment. "What happened here is we went from free love to free Medicare" he called out to the audience of grey hair.
Shorrock and Cadd were almost as entertaining in their comedy routine of banter as they were singing. "It's good to be here… or anywhere", he said, referring time and again to his age in good humour.
We've got some great pics from the concert as well as a few clips to get you bopping. If you haven't already, you can join us on Instagram for more at www.instagram.com/startsat60
Ad. Article continues below.
Have you been to the APIA Good Times Tour? Watch Joe Camilleri and Wilbur Wilde face off on Saxophone:
Ad. Article continues below.