Obama praises Michelle's 'hotness' as presidential portraits unveiled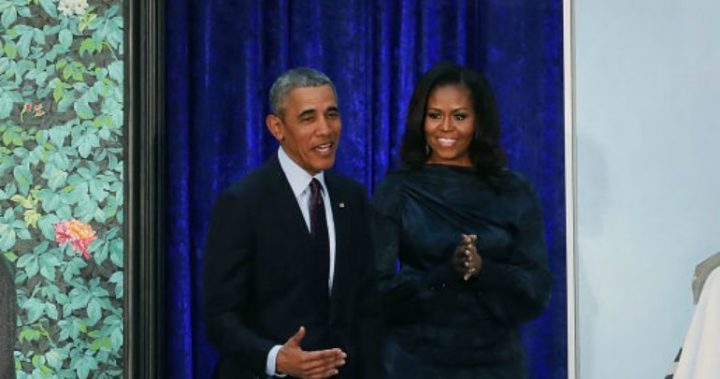 The former United States president Barack Obama and his wife, Michelle Obama, have had their official portraits unveiled at the Smithsonian National Portrait Gallery, with him praising his wife's "hotness" in his speech. 
"I want to thank you for so spectacularly capturing the grace and beauty and intelligence and charm and hotness of the woman that I love," Obama said.
The portraits will hang in the National Portrait Gallery collection of presidential portraits.  Barack Obama's was painted by Kehinde Wiley and Michelle Obama's by Amy Sherald. They were the first black artists ever to be commissioned for a presidential or first lady portrait for the Smithsonian.  
Barack Obama is positioned in a brown chair with a leafy backdrop.  Michelle Obama wears a flowing geometric dress the epitome of style that she displayed as first lady.
Ad. Article continues below.
Obama said his artist was at a disadvantage because his subject was "less becoming". "I tried to negotiate less grey hair and Kehinde's artistic integrity would not allow him to do what I asked," Obama joked. "I tried to negotiate smaller ears — struck out on that as well."
Ad. Article continues below.

The significance of the moment was not lost on Michelle Obama, who later posted a photo on Instagram.
"As a young girl, even in my wildest dreams, I never could have imagined this moment. Nobody in my family has ever had a portrait – there are no portraits of the Robinsons or the Shields from the South Side of Chicago," she said. "This is all a little bit overwhelming, especially when I think about all of the young people who will visit the National Portrait Gallery and see this, including so many young girls and young girls of color who don't often see their images displayed in beautiful and iconic ways. I am so proud to help make that kind of history."