New Star Wars film premieres with touching tribute to Carrie Fisher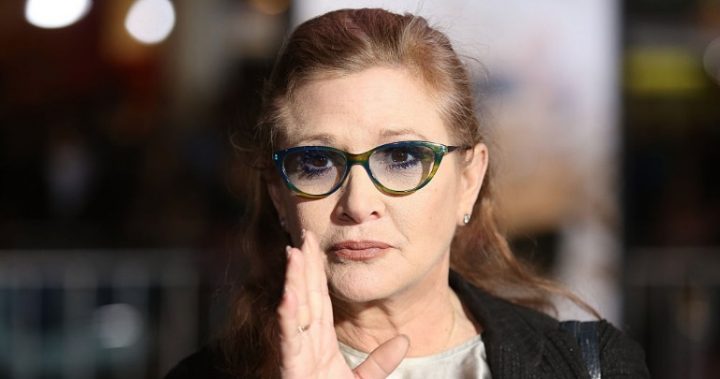 She was arguably one of the biggest parts of the Star Wars franchise and her co-stars and movie directors have paid tribute to Carrie Fisher at the premiere of the new film.
As you'll recall, Fisher tragically died last year shortly after she finished filming scenes for the latest instalment, Star Wars: The Last Jedi.
An autopsy revealed that the 60-year-old had a deadly drug cocktail in her system when she passed away.
Read more: Autopsy reveals Carrie Fisher took huge drug cocktail
Still, her presence could be felt when an array of stars walked the red carpet in Los Angeles at the Shrine Auditorium to launch the new movie.
Ad. Article continues below.
In addition to her co-stars gushing about her, her face was plastered on giant posters along the red carpet.
She also plays a vital role in the latest instalment, with fans around the world eagerly anticipating how her character will exit the franchise.
When writer and director Rian Johnson took to the stage to introduce the film to thousands of adoring fans, he took a moment to let everyone know that Fisher wouldn't be forgotten.
Read more: Dramatic story of Carrie Fisher's revenge on Hollywood sex pest
"Let's all have a blast tonight for Carrie," The Guardian reports Johnson saying.
Ad. Article continues below.
"I want to dedicate tonight to Carrie, who is up there right now flipping me the bird, saying 'Damn it Rian. Don't you dare make this night a solemn tribute.''
Despite passing away last December, Fisher has continued to make headlines.
Back in October, a photo of her beloved Dog Gary went viral when he became upset watching his owner on TV.
Ad. Article continues below.
Read more: Sad snap shows Carrie Fisher's beloved dog still misses his 'mother'
There were also reports in October of the star getting revenge on a Hollywood sex pest when she was alive.
Those reports suggested she sent a cow's tongue to a Hollywood producer who tried to sexually assault her friend.
Fans don't have long to wait to see Fisher in action. The new Star Wars movie hits cinemas on Thursday.
What do you think of the tribute? Were you a fan of Carrie Fisher?