New series is "Friends" for boomers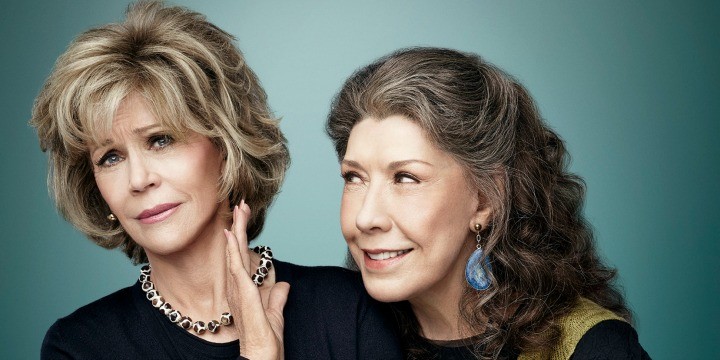 Have you been watching Grace and Frankie on Netflix? If not, why not? It is hi.la.ri.ous. Made by the people who brought us a decade of 20-somethings in New York, aka Friends, this is a cracking comedy-drama about starting life all over again in your 70s.
The cast is outstanding, the humour is tasteful and the premise is, well, fun.
Grace, played by Jane Fonda, and Frankie (Lily Tomlin) have never really got on, despite their husbands' long-term law-partnership. But one night at dinner, the husbands, Robert (Martin Sheen) and Sol (Sam Waterston), drop the bombshell that they are leaving their wives and getting married – to each other.
Forced to lean on each other at such a traumatic time, Frankie and Grace forge a tentative friendship, despite being women with wildly different tastes, attitudes and life skills.
Speaking to Yahoo TV, creator Marta Kaufman admits the concept was created with the leading ladies in mind. Lily Tomlin is 75, and Jane Fonda is 77. So why make a show about older women?
Ad. Article continues below.
"There's a lot of really good TV out there, but there really isn't much about the largest segment of our population: the baby boomers. There is nothing about what they're going through. There is nothing about ageing. There is nothing about, I don't know, dry vaginas. You're just not going to get it anywhere else," says Ms Kaufman.
"We wanted to do something that isn't sad about that age. The idea was, what happens if you start life over? That seemed to be an exciting opportunity for us story-wise, but also for the actors. Hopefully, it's a little aspirational, too, at least in the desire to be something else, the chance to be something else, that you can do it at any age".
Ad. Article continues below.
Ms Kaufman, who is her late 50s, said she is happy to give the older generation of women and voice – in an entertaining way, of course.
"There's a whole generation of people who grew up in the '40s and '50s, where everything was about conforming. Yeah, we had the '60s, but that generation was already beyond the point where it could have an enormous effect on who they were as people. We're giving this revolution to these adult characters who never had the opportunity to ask themselves, "Who am I, really?"
Grace and Frankie began airing on Netflix earlier this month. Have you been watching it? Do you welcome a drama about older women's lives?