Mystery fan offers huge reward for missing piece of movie history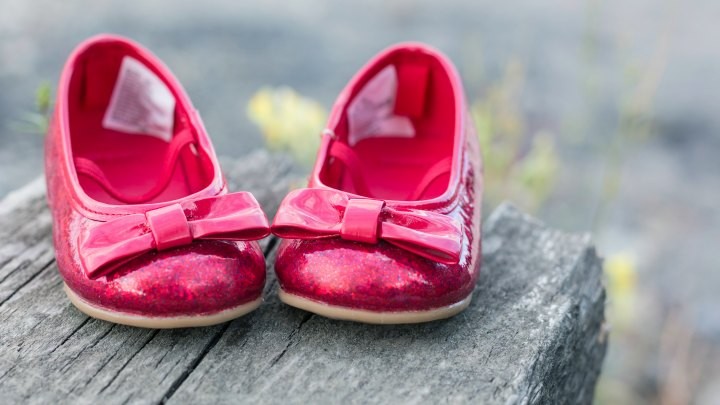 What would you do if you had a spare million dollars? Take a (permanent) holiday? Visit the moon? Buy a tiny apartment in Sydney?
Well somewhere over the rainbow, someone has decided to post $US1 million($1,343,273) to anyone who has credible information that would lead to finding those famous ruby red slippers worn on Judy Garland's feet in The Wizard of Oz.
The slippers – one pair of four used in the 1939 film – were stolen from a museum in Minnesota, Ms Garland's hometown ten years ago this August.
The location of the other three pairs is known, with one pair being on display at the Smithsonian Institution in Washington. But whoever has pledged this money clearly can't stand the fact those famous shoes are on the loose.
Perhaps they could try clicking themselves together to get home?
Ad. Article continues below.
Hopefully the person who nicked them doesn't have them on because, as we all know, you can't just take them off someone – you have to drop a house on the first.
$1 million reward offered for credible information on stolen 'Wizard of Oz' ruby slippers http://t.co/hZ2Jga5pwB pic.twitter.com/l6A0h9FoP1

— SBS News (@SBSNews) July 11, 2015
The executive director of the Judy Garland Museum in Grand Rapids, Minnesota, says the donor comes from Arizona and is a huge fan of Garland and the yellow brick road.
To pledge that much money, he or she would have to be more than a "big fan", wouldn't you say? Although there is the possibility the person is simply a shrewd investor.
Ad. Article continues below.
The stolen slippers were insured for $US1 million back in 2005. Today they are worth between $2 million to $3 million.
The reward offer requires the exact location of the slippers and the perpetrator's name.
Have you ever spent an outrageous amount of money to own something that reminds you of your favourite band, film or celebrity? If you had a million bucks to spend on memorabilia what would you go for?