Michelle Obama cracks jokes and gets the crowd dancing on Ellen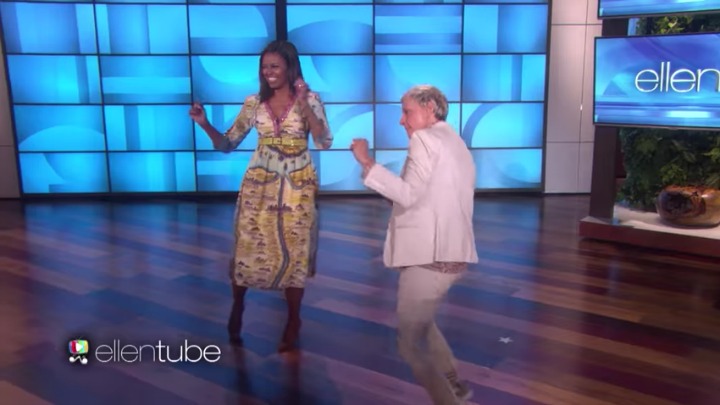 Proving once again that she's a lady of many talents, First Lady Michelle Obama has co-hosted the Ellen Show and to roaring success.
Michelle kicked off the show with the traditional dance up the aisles, shaking it with the crowd and showing off her moves.
She looked absolutely gorgeous for the occasion, donning a bright print dress and heels.
Michelle spoke with Ellen about the sadness her, Barack and their children are feeling about leaving the White House next January, saying it was the people who worked there she would miss the most.
Ad. Article continues below.
"They really managed this so well. The big thing I always worried about was making sure that they got out of this whole. I'm just proud that they are poised, smart, intelligent young women," she said speaking about her two girls Sasha and Malia.
Later the pair interviewed Hollywood hunk Bradley Cooper who confessed that at his first time at the White House he wasn't wearing any underwear.
"I had just done American Sniper and the tuxedo was too tight so at the last minute I decided to 86 it," he said.
"Because if the suit was to rip it's much better if you don't have underwear on," Ellen joked sarcastically.
Ad. Article continues below.
"It is for us!" replied Michelle. "It's good for us, right ladies?"
They also spoke to basketball star Stephen Curry, who it turns out has played golf with Barack, and Michelle gave him tips on how to beat him.
"He's a trash talker though, right? You should trash talk back! Talk about his ears. If you're putting you want to say the shadow from your ears is really messing up my put," she said laughing.
The two made a great pair with many suggesting Michelle line up a job in television when she steps down as First Lady!
Will you miss the Obamas in the White House? Are you a fan of Ellen and Michelle?