Meryl Streep jams on the guitar in braids and leather in new rock 'n' roll film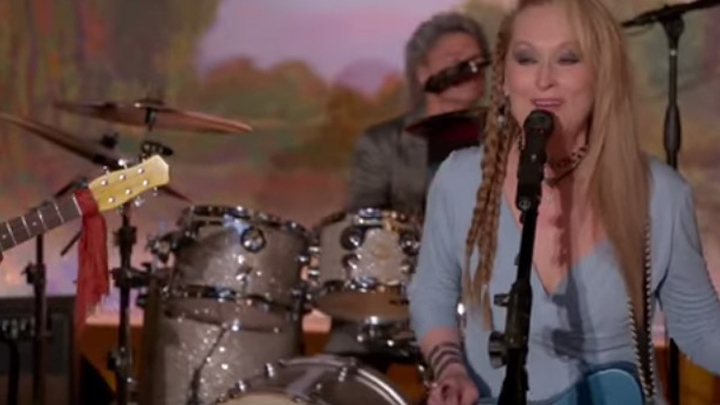 We've seen her in every role possible, or so we thought! The wonderful Meryl Streep is now trying her hand at rock 'n' roll – she's starring in the new film Ricki and the Flash, and it looks very cool.
The awesome family drama stars Meryl in the lead role, where she plays an old school rocker returning home to make amends with her estranged children, particular her daughter Julie (her actual real life daughter Mamie Gummer), who has had a break up.
It's a real change for Meryl but we love it! Decked out with heavy makeup and a funky hairdo, we see Meryl strumming on stage with a guitar and singing a rock tune.
We love that Mamie Gummer, Meryl's daughter, is starring in the movie with her mother, and if the trailer is anything to go by, she is a fantastic actress just like her mum.
Meryl has previously sung in Into the Woods, Mammi Mia!, and Postcards from the Edge, shows off her impressive vocals in the first sneak preview of the film.
Ad. Article continues below.
The clip shows Ricki saying to her daughter, "One day you're gonna wake up and find a grey hair — and I don't mean on your head", then cackling wildly.
According to Entertainment Weekly, the soundtrack for Ricki and the Flash was recorded in front of a live audience and we will see her performing classic Bruce Springsteen and Tom Petty songs. Rolling Stone reports the Academy Award winning actress learnt the guitar for the role and practiced for six months before filming. Jonathan Demme said, "She goes, 'Jonathan, look! Blood!' Meryl had shred so fiercely, a little blood had spattered on her baby blue dress".
Take a look at the trailer below and tell us, what do you think of Meryl's transformation into a rock and roll goddess? Will you be going along to see this movie?