Meryl Streep cops a backlash for "offensive" t-shirt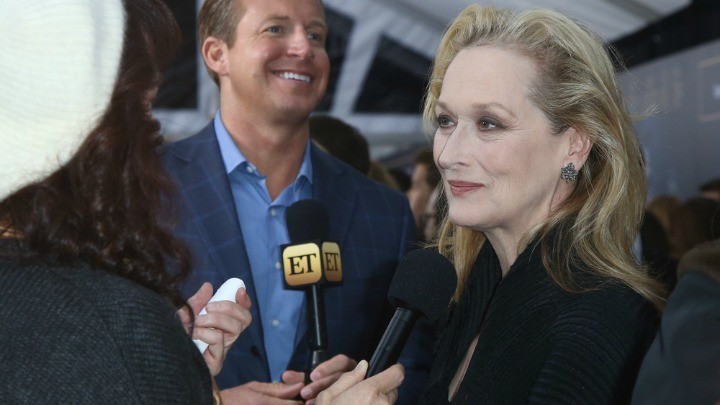 Meryl Streep has come under fire for wearing a t-shirt with a bold slogan on the cover of a magazine. Streep was promoting her new film, Suffragette, a biopic about the women's suffrage movement in England, which should incite a healthy debate about feminism… but instead, everyone's talking about race.
Below is the cover in question, with Streep wearing the slogan "I'd rather be a rebel than a slave" along with a smile. Her co-star Carey Mulligan appeared in a similar cover, only the picture was cropped so her t-shirt only read, "I'd rather be a rebel".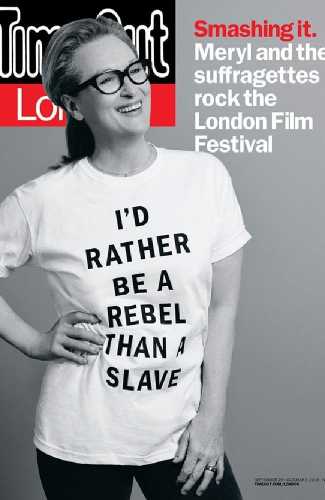 The phrase is a quote from 1913 by British suffragette Emmeline Pankhurst, who Streep plays in the film, reports Mashable. However, in 2015, the word "slave" is laden with a different kind of meaning and people are not impressed by its use.
When the magazine – Time Out London – was released in the UK,  no one mentioned anything about slavery, however US audiences reacted strongly.
Ad. Article continues below.
"No one thought this was a bad idea? Come on Streep. You're smiling with the word slave on a T-shirt," tweeted one observer.
Sorry Meryl, but these two are the REAL #Suffragette's. pic.twitter.com/0NJ2TuNG0t

— Tyree Boyd-Pates (@TyreeBP) October 5, 2015
This is yet another example of White Feminism striking again. All the nopes. #Suffragette pic.twitter.com/WiEQbuL26f

— The Opinioness (@OpinionessWorld) October 5, 2015
Ad. Article continues below.
However, as Mashable observes, the focus on whether or not the t-shirt is racist distracts from the words in the article, in which Streep says she is actually not a feminist.
"I am a humanist, I am for nice easy balance," she says.
What do you make of Meryl Streep wearing this t-shirt? Is it offensive? Should she have known better?