Meet the 93-year-old fashionista who redefines style for older women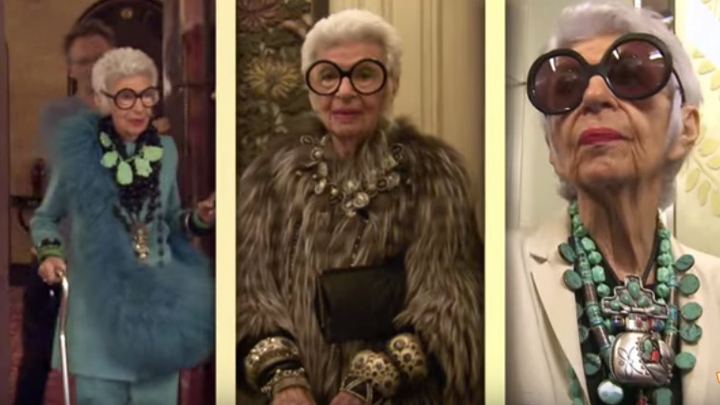 She's fabulous and she knows it: Iris is 93 and has been a pioneer in fashion for older women – basically, we have her to thank for less frumpy styles, and more acceptance of colour and shape in our later years.
A style icon in New York City, and perhaps the world, Iris Apfel is a recognisable figure – she wears bright, quirky clothing paired with her big owl eye glasses.
The new documentary IRIS focuses on Ms Apfel, and is more than a fashion film, it's a story about creativity, design and how her soaring free spirit continues to inspire women (and men) around the world. IRIS portrays a woman whose enthusiasm for fashion, art and people are life's sustenance and reminds us that dressing, and indeed life, is nothing but an experiment.
Iris studied art history at New York University and attended art school at the University of Wisconsin. As a young woman, Apfel worked for Women's Wear Daily and for interior designer Elinor Johnson. In 1950, Iris and her husband Carl Apfel launched the textile company Old World Weavers and ran it until they retired in 1992. From 1950 to 1992, Iris Apfel took part in several design restoration projects, including work at the White House for nine presidents: Truman, Eisenhower, Kennedy, Johnson, Nixon, Ford, Carter, Reagan, and Clinton.
The documentary is also to show that the 93-year-old is more than her clothes.
Ad. Article continues below.
"I think fashion is just part of my life and if it hadn't been fashion then it would have been something else. I was so worried in the film that I would come across as some empty-headed fashionista," she told thegayuk.com. Of course she isn't!
"Thank God for that, because there are so many empty-headed people in the fashion business who take themselves way too seriously and I don't think I am at all like one of them. To me, there are lots more important things in the world than just having the right shoes!"
Her best fashion tips? Don't over think what you're wearing. She said she can always tell when someone has spent too much time putting an outfit together as they never look that happy or comfortable, two things which are crucial to Iris.
"If you don't know who you are, you will either get swallowed up or you follow some unsuitable trends and just become a nonentity," she advised. "It's not easy to know who you are and it's very painful and takes a lot of time and that is why a lot of people don't want to put in the effort. However, if you don't have any individuality and you're happy just being one of the girls (or boys), be my guest. I'm not the fashion police. I won't fault you".
Check out Iris in her awesome documentary below and tell us, is she your style icon? Will you see her movie? See showing times here