Martinis, Conquests and Kills...all in a days' work for Bond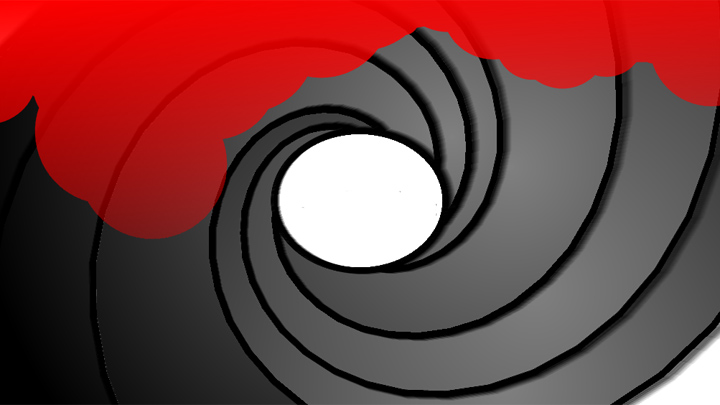 James Bond is known for killing the bad guys, bedding the sexy vixen, and having his martinis shaken not stirred.
Now The Economist has published the definitive answer as to who is the most bloodthirsty, sexually motivated or in need of alcoholic refreshment, comparing the numbers of kills, conquests and martinis for each of the six Bonds.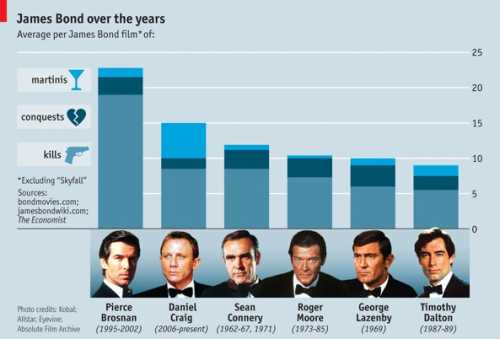 In an eye-opening infographic, Pierce Brosnan stands proud, head and shoulders above the rest when it comes to slaying villains.  With as many kills per movie as Daniel Craig and Sean Connery combined, Brosnan clearly represented what was a more violent period for the franchise, knocking off an average of 19 villains and obligatory henchmen in each film.
Craig, whilst still notching up a respectable 9 kills per movie, was clearly too busy getting stuck into the booze, out drinking his predecessors with five martinis per flick. Notably, the alcoholic intake had a inverse effect on his conquests in the bedroom with Craig, struggling to compete in comparison.
Ad. Article continues below.
Lazenby, on the other hand, struggled to get out of the bedroom long enough to rid the world of too much evil, although we were surprised to see that he didn't work up more of a thirst!
Timothy Dalton appeared to have the most even-handed score across the three categories.
However, we reckon crowd favourite Sean Connery, playing Bond from 1962-1971, is still the man to beat. Whilst not being as thirsty as a stereotypical Scot, his performance on and off 'the field', coupled with longevity in the role, would no doubt see him come out on top in actual terms.  And when it comes to killing bad guys and bedding Bond girls, that's all that matters.
Do you agree?  Are you surprised by any of the numbers? Who surprised you the most?