Mariah Carey's odd diet is causing social media fenzy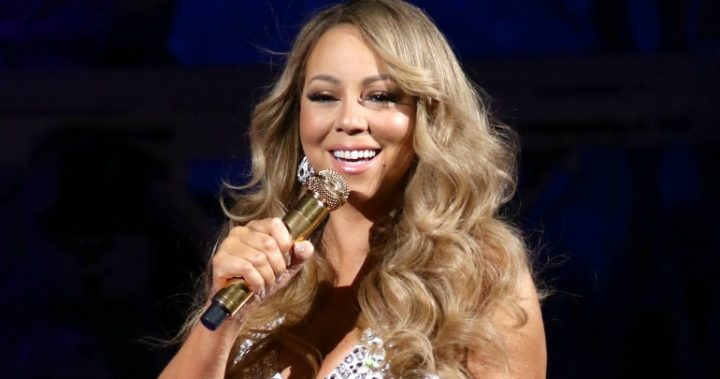 Remember those crazy diet we had back in the day? The Atkins diet, the lemon pepper detox drink, the Stillman Diet, the pineapple diet. Wow, we've truly seen it all. And let's not forget that popular belt massage used back then to help trim down a few inches. Today's diets are no less crazy-sounding. Mariah Carey who has been flaunting her figure in low-cut, tight-fitting ensembles on social media has come out to say that keeping her body in shape hasn't come easy.
"It's really hard," Carey tells E! News of her strict healthy eating habits. "My diet … you would hate it."
The singer jokes that she mainly eats only two foods.
"All I eat is Norwegian salmon and capers every day," says Carey with a laugh. "That's it!"
While her diet may not be that strict, Carey does say she definitely watches what she eats, reports People.
Ad. Article continues below.
"I try to stick with the proteins," she says. "It's the worst."
The singer has spoken about her emphasis on a healthy diet for achieving her physique in the past.
"I realise that 90 per cent of losing weight is my diet," she previously told Shape magazine.
"Today my workout routine is more about getting and staying toned," she said at the time. "And for me, that means either taking hour-long walks a few times a week or jumping in the pool three or four days a week to do 45 minutes of aquatic exercises."
Her diet has been making rounds on social media with people saying that they are very excited to try it.
Ad. Article continues below.
Remember these diets?
This diet list by CNN is just the tip of the iceberg. Did you try any of them?
1963: Weight Watchers is founded by Jean Nidetch, a self-described "overweight housewife obsessed with cookies."
1970:The Sleeping Beauty Diet, which involves sedation, is rumored to have been tried by Elvis.
1975: A Florida doctor creates the Cookie Diet, a plan where you eat cookies made with a blend of amino acids. Hollywood eats it up.
1977: Slim-Fast — a shake for breakfast, a shake for lunch, then a sensible dinner — becomes a diet staple.
1978: Dr. Herman Tarnower publishes "The Complete Scarsdale Medical Diet." Two years later he is shot by his girlfriend.
1979: Dexatrim, a diet drug containing phenylpropanolamine (PPA), appears on drugstore shelves. Its formula changes after PPA is linked to an increased risk of stroke in 2000.
1980s: A popular appetite-suppressing candy called Ayds is taken off the market after the AIDS crisis hits.
1982: The aerobics craze steps into high gear when Jane Fonda launches her first exercise video, "Workout: Starring Jane Fonda." Her catch phrase: "No pain, no gain."
1983: Jazzercise, founded in 1969 by professional dancer Judi Sheppard Missett, hits all 50 states.
1985: Harvey and Marilyn Diamond publish "Fit for Life," which prohibits complex carbs and protein from being eaten during the same meal.
1987: In her memoir-slash-self-help book, "Elizabeth Takes Off," actress Elizabeth Taylor advises dieters to eat veggies and dip each day at 3 p.m.
1988: Wearing a pair of size 10 Calvin Klein jeans, Oprah walks onto the set of her show, pulling a wagon full of fat to represent the 67 pounds she lost on a liquid diet.
1991: Americans go low-fat, eating foods like McDonald's McLean Deluxe burger.
1992: Dr. Robert C. Atkins publishes "Dr. Atkins' New Diet Revolution," a high-protein, low-carb plan.
1994: The Guide to Nutrition Labeling and Education Act requires food companies to include nutritional info on nearly all packaging.
1995: The Zone Diet, which calls for a specific ratio of carbs, fat, and protein at each meal, begins to attract celeb fans.
Do you think Mariah has gone too far with her diet this time? Have you ever undertaken an extreme diet like this one?