Let's talk: Do your grandkids deserve designer clothes?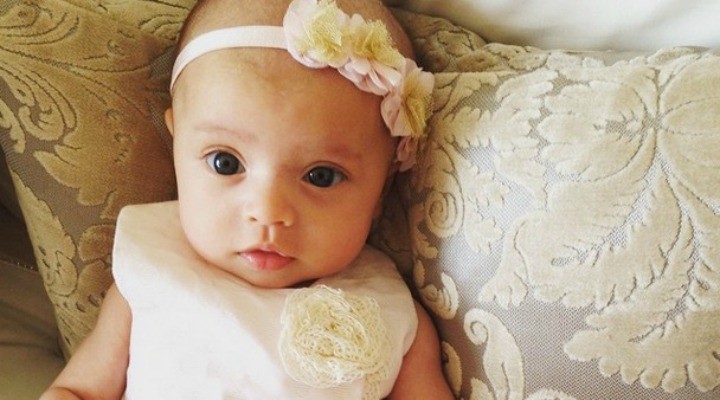 When I had my son, a kind midwife told me "you can't spoil a baby". I wonder whether she would have said the same to a British couple who spent £20,000 on clothes for their newborn twins? Isabella and Jacob Hill, aka The Hill Twins, aka UKsPamperedTwins on social media, each had a new designer outfit every day for their first three months.
And the madness doesn't stop there. The twins' mother is a known spendaholic who runs a high-end dog pampering business and once spent £100,000 on her tiny terrier's wedding (which ended in "divorce").
Ad. Article continues below.
Ironically, Louise Hill's husband was the frontman for a money-saving TV show in the UK called Superscrimpers when they first met. The bubs have been decked out in labels like Prada, Dior, Chloe and Ralph Lauren since birth, with some items costing up to £500 each, according to the Mirror. The twins travel first-class in a £2500 pram, their £1600 ornamental milk bottles are covered in Swarovski crystals and one of their many teddy bears cost £600.  
Ad. Article continues below.
Mum Louise justifies her spending on the gorgeous pigeon pair by saying, "People might think it's in bad taste but we went through such trauma to have the twins through IVF that I'll dress them how I like. They're so precious and nothing is too good for them. I want them to look their best all the time and I ­enjoy it".
While the story of this couple is entertaining, it's far from typical. An IBISWorld study found parents spend $3,037 per child annually on nappies, clothing, food, furniture, toys and footwear. But that doesn't mean our bubs aren't well dressed. Savvy mums pick up designer bargains on eBay, and high-street brands like Country Road and Fred Bare provide kids' clothes that are a cut above the Best'n'Less.
I know in my family anything decent my kids have to wear comes from… their grandparents! The funny thing is both sets are far more willing to buy expensive clothes for our kids than they were for my husband or me when we were young. My mum even says, "I know he/she will grow out of it in five minutes but I couldn't resist".
Do you spend a "little" bit more on designer clothes (and other things) for your grandkids or do you think designer clothes for kids are a waste of money?