Let's talk about breasts: Tracey Spicer shows why you should book a mammogram today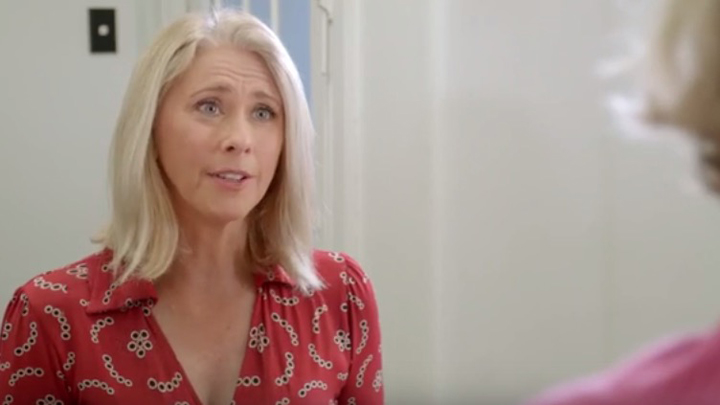 We know her from her many years presenting Channel 10 news but now Tracey Spicer is on our screens for another reason: to show herself having a mammogram.
This new video "Letstalkaboutbreasts" shows Spicer having a breast examination and breast scan to encourage women to have their breasts checked for cancer.
Sadly, eight members of Tracey's family have died of cancer and she herself may have the gene mutation that increases her chances of having the disease.
"On the first day of filming I'd never met the crew and the first thing I had to do was take my top off and have a doctor poke my boobs," she said.
"I did it because it was important, I've got to the age where I don't give a damn what people think of me, whatever is the most effective way to get the message across I'll do it.
Ad. Article continues below.
Last year a close friend was diagnosed with breast cancer, calling Tracey to action – it had been over seven years since she'd had a mammogram.
"And I'm one of those women at higher risk, there is a strong risk of cancer on one side of my family," she says.
"I am on a mission to empower as many women as I can to take action to get to know their breasts and cancer risk.
"Sharing my experience and talking to other women was a privilege but also an eye opener.
"The 'it won't happen to me' mentality must stop because complacency is the worst enemy of a woman at high risk".
Ad. Article continues below.
Tracey is now planning to have a test for the BRACA 1 and 2 genes which are linked to 5-10 per cent of breast cancers.
News Corp reports almost half the women over the age of 50 who are eligible for a free breast screen don't use it, despite it potentially saving their life – early detection increases the survival of 96 per cent of women diagnosed.
New technology, as you can see in the video, is much more advanced and takes a 3D image of the breast, in layers.
Tracey Spicer has a 3D mammogram which takes images of the breast in slices, unlike a traditional 2D mammogram.
Between mammograms, women are urged to examine their own breasts to check for lumps once a month.
Take a look at Tracey in the video below and tell us, will you be booking in soon?