Kylie, Asher look gorgeous in toned-down versions of wild '70s fashions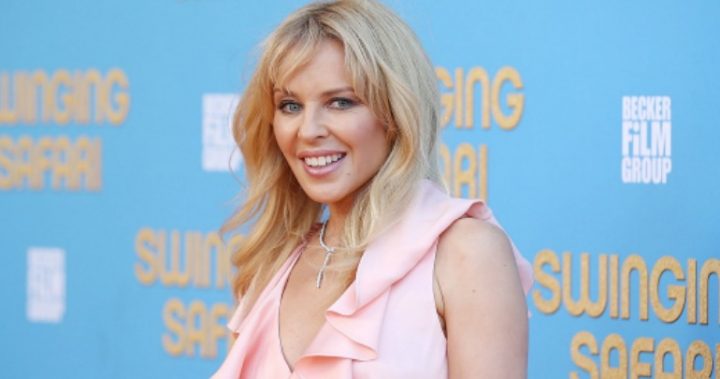 Kylie Minogue, Asher Keddie and even Julian McMahon channelled the 1970s when getting dressed up for the premier of their movie Swinging Safari in Sydney.
Kylie looked as amazingly youthful as ever in a silky, baby pink wrap dress with a deep-V, frilled neckline that looked straight off the Diane von Furstenberg catwalk of 40 years ago.
Offspring star Asher, meanwhile, went for a '70s-influenced white dress with a bold belt feature, while Julian wore what looked like classic Le Specs sunglasses, complete with the retro blue frames, and a blue-toned paisley tie.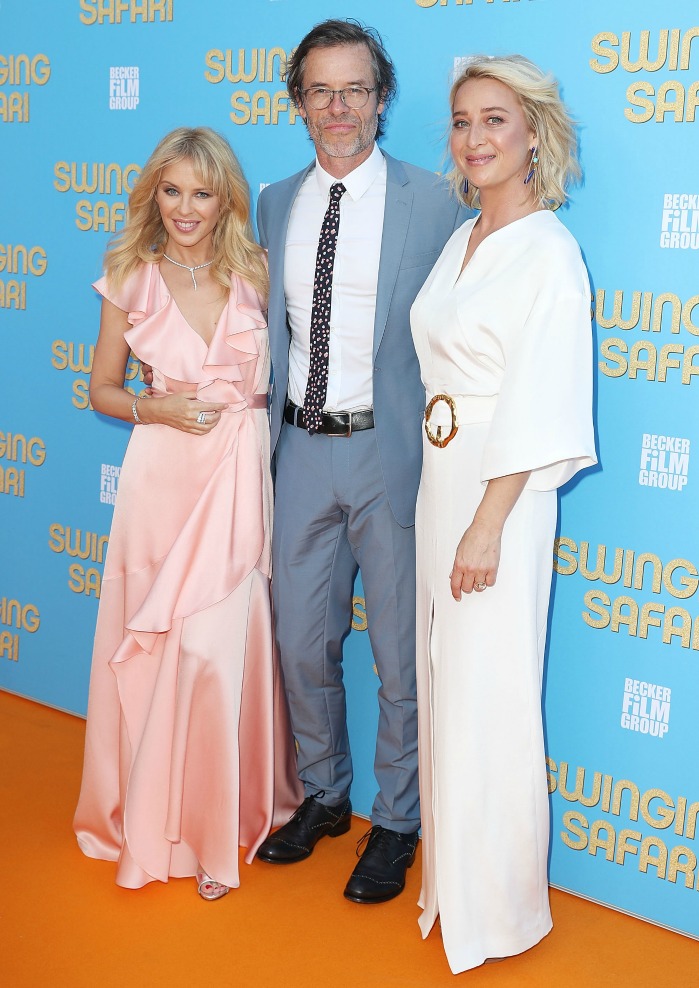 Fellow stars Guy Pearce dressed up in a narrow-legged grey suit, while veteran actor Jack Thompson eschewed any attempt at theming by donning his signature black T-shirt and suit jacket look.
Ad. Article continues below.
The Aussie celebrities were on the red carpet to launch Swinging Safari, which is set in Sydney in the 1970s, where 'dad' Keith Hall, played by Guy, sells encyclopaedias for a living, while 'mum' Kaye, played by Kylie is a closet alcoholic.
The makers of Swinging Safari give this synopsis: "A 200-ton blue whale washes up on a local beach and the kids think it's the biggest thing that's ever happened in their lives.
"Behind closed doors, the Mums and Dads of this quiet suburban cul-de-sac celebrate in their own special way, by joining the sexual revolution. It's a time of boxed wine, bad hair, bad styles, bad choices, but good times. And like the rotting whale, it's all about to go spectacularly wrong."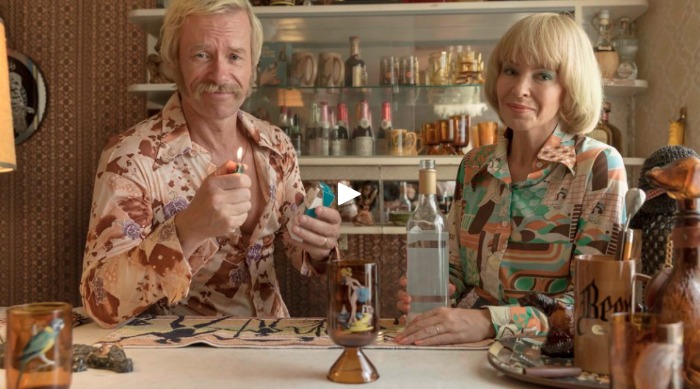 Ad. Article continues below.
In what sounds like a raucous comedy, the Halls and their neighbours, played by Aussie actress Radha Mitchell, Julian, Asher and Jeremy Sims, have parties, to the beach and generally misbehave in the traditional Aussie way.
As the movie's narrator Richard Roxburgh reportedly describes the '70s: "A decade with too much time, too much money and too much cask wine".
The movie got a rave review from The Guardian, which called it a "a fabulously sly, cynical and cheeky coming-of-age story", full of dingbat characters that give Aussies a chance to laugh at themselves. It also reunites much of the film team involved in hit movie Priscilla Queen of the Desert.
Swinging Safari is in cinemas from January 18.
The 1970s – a great decade or one best forgotten?