Kerri-Anne reveals how she got her first bikini body at 62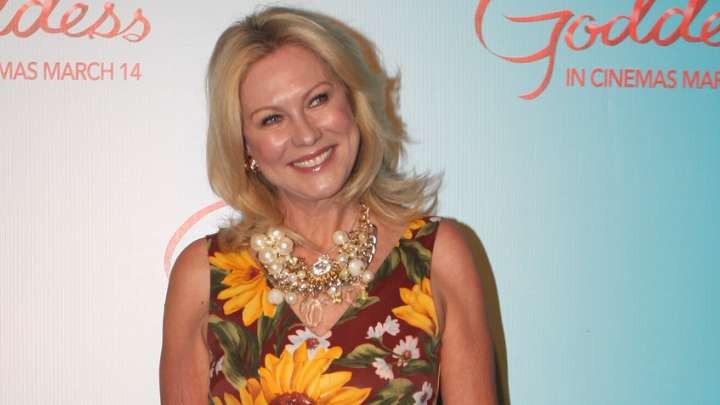 She had her very first bikini shoot for Woman's Day this week but we wondered how on Earth she did it? Now Kerri-Anne has revealed her diet and exercise tips for all over 60 women to follow.
Her cover photo was mind-boggling and we have to say she looked incredible, especially after cancer.
Kerri-Anne revealed to Daily Mail Australia how she was able to get in shape and achieve a great bikini body at 62 – all without the mumbo jumbo you hear from other celebrities.
Her new body was not created by cardio workouts, but with weights and a high protein diet. While she is on a low carb diet, KAK didn't ditch the carbs altogether.
Ad. Article continues below.
"I haven't been doing any cardio, its all been weight training".
Kerri-Anne works out twice a week with personal trainer Billy Kokkinis of City Gym, and focuses on her upper and lower body – and we can tell…her arms and legs are amazing.
For breakfast, the former talk show host eats Weetbix with yoghurt, nuts and seeds, then smoked salmon and cottage cheese for lunch, followed by a fresh fish or seafood stir fry for dinner.
She's also made sure to cut down on carbohydrates such as pasta, rice and bread.
"I think the arms are always difficult to tone up. Legs respond quite well and, you know, the more muscles you've got the more calories you burn anyway", Kerri-Anne admitted in her interview.
Ad. Article continues below.
Amazingly, KAK's toned bum wasn't from squats – she's unable to do them with her bad knees.
"Luckily, I love steamed vegetables and fresh food, I don't eat anything that's not fresh", admitting she's had to cut back on treats and sweets.
Her fitness regime began during Dancing With The Stars 2012 when she discovered a small lump while trying on costumes, which turned out to be breast cancer. She claims the finding saved her life.
"It's all about health, muscle fitness and bone fitness, which is critical to everyone, most especially women of all ages and the more so, as you age.
"Our immunity is tied to our fitness levels, so when you do actually tone up, not only mentally do you feel a little bit better, but physically, it's good for everything", she said.
In March, Kerri-Anne told Woman's Day, "This is probably the best I've ever felt, but I've got to say I always feel pretty good".
Tell us, have you started a healthy lifestyle routine lately? Will you follow KAK's advice?