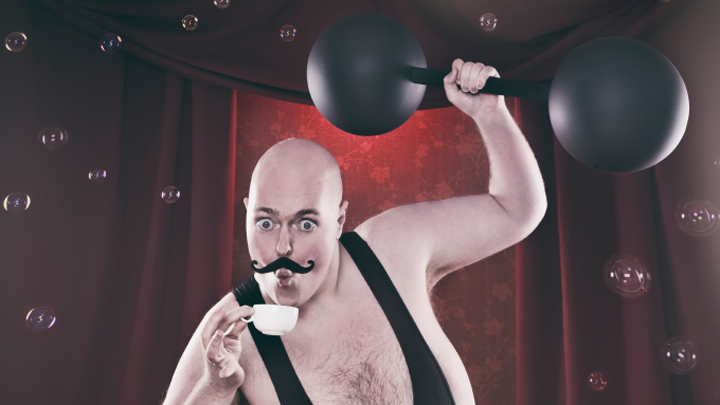 The circus had come to Glasgow and the city was at the very peak of fever-pitch excitement. All people could talk about was the chief attraction, Boris.
Now Boris who, it was said, came from the Russian steppes, was a man mountain, 120 kg of solid muscle, more than 7 feet tall, all teeth and hair and muscles on his muscles. And he made a deafening primitive roar and was kept locked securely in a steel cage. He was an animal with neither sympathy nor compassion.
Every night, Boris was wheeled out in his cage and the ringmaster announced "Ten thousand pounds to the man who can go two rounds with Boris!" and Boris let out his terrifying road and shook the bars on his cage. The crowd was hushed into silence.
Then from up the back came a tiny wavering voice, "Aye, I'll do it".
It was wee Angus, a scrawny little guy probably weighing about 50kg and barely more than five feet high. The crowd turned to look at him in sheer awe. Even Boris stopped roaring.
Ad. Article continues below.
Angus entered the ring and the ringmaster asked him if he was sure that he wanted to enter Boris' cage. Wee Angus said an emphatic, "Yes".
And in he went – in an instant Boris had him twisted by a half-nelson grip that threatened to snap his spine. The crowd gasped. Then Boris had him in the full-nelson. The crowd was horrified – inside the cage was a mass of twisted bodies, arms and legs. All they could hear was Boris' awful brutal roar.
Then suddenly, Boris flew across the cage, hitting the bars and crumpling to the ground. The crowd went wild singing, 'We Are The Champions'.
The ringmaster helped an exhausted Angus from the cage and presented him with the ten thousand pound cheque. He asked, "How did you do it Angus? A wee lil lad like you?"
"Well," said Angus, "I was in terrible pain when he got me in the half-nelson and I thought that I would die. Then when he got me in the full-nelson I was beyond pain almost and gripped by a real panic. Then I saw in front of me a huge willie dangling down and gathering my last bit of strength I leaned forward and bit is as hard as I could".
Ad. Article continues below.
"You got no idea the surge of strength you get when you bite your own willie".
Thanks to Russell for sending this one in. If you want to read some other great jokes, click here. Or to submit one of your own to share with the Starts at 60 community, click here.