This 94-year-old woman's obituary has gone viral, here's why...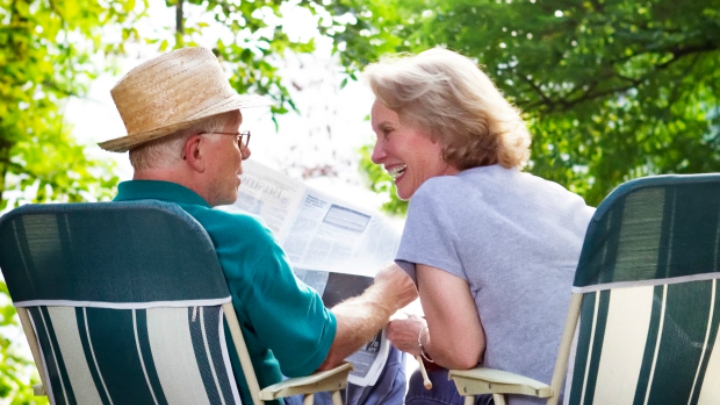 You've never met Pat Stocks but after reading her obituary, you'll feel like you know her. The clever obituary written by her son on behalf of the family stepped away from tradition and told it like it was.
Sandy Stocks said, "I wrote this for the family…I didn't know anyone else would ever get it."
But as it turned out, the unconventional obit has touched a chord with people all around the world. The article has gone viral and, unwittingly, Mr Stocks has shared his mother legacy with the world in a way, he says, she would just love.
Here are some of the highlights of the obituary, which, after announcing Mrs Stocks' death launches straight into dealing with practical matters.
"She left behind a hell of a lot of stuff to her daughter and sons who have no idea what to do with it. So if you're looking for two extremely large TVs from the 90s, a large ceramic stork (we think) umbrella/cane stand, a toaster oven (slightly used) or even a 2001 Oldsmobile with a spoiler (she loved putting the pedal to the metal), with only 71,000 kilometres, and 1,000 tools that we aren't sure what they're used for, you should wait the appropriate amount of time and get in touch. Tomorrow would be fine."
Ad. Article continues below.
People have particularly resonated with the line: "She leaves behind a very dysfunctional family that she was very proud of."
"Pat was world-renowned for her lack of patience, not holding back her opinion and a knack for telling it like it is. She always told you the truth even if it wasn't what you wanted to hear. It was the school of hard knocks and yes we were told many times how she had to walk for miles in a blizzard to get to school, so suck it up. With that said she was genuine to a fault, a pussy cat at heart (or lion) and yet she sugar coated nothing.
"Her extensive vocabulary was more than highly proficient at knowing more curse words than most people learned in a lifetime. She liked four letter words as much as she loved her rock garden and trust us she LOVED to weed that garden with us as her helpers, when child labour was legal or so we were told. These words of encouragement, wisdom, and sometimes comfort, kept us in line, taught us the "school of hard knocks" and gave us something to pass down to our children. Everyone always knew where you stood with her. She liked you or she didn't, it was black or white. As her children we are still trying to figure out which one it was for us (we know she loved us).
"She was a master cook in the kitchen. She believed in overcooking everything until it chewed like rubber so you would never get sick because all germs would be nuked. Freezing germs also worked, so by Friday our school sandwiches were hard and chewy, but totally germ free. All four of us learned to use a napkin. You would pretend to cough, spit the food into it and thus was born the Stocks diet. If anyone would like a copy of her homemade gravy, we would suggest you don't."
Ad. Article continues below.
"All whom loved her dearly will never forget her tenacity, wit, charm, grace (when pertinent) and undying love and caring for them."
Pat Stocks, 94, passed away peacefully at her home in bed July 1, 2015. You can read her full obituary here.
Tell us, would you want someone to write such an honest, humorous tribute to you and your life?