Hilarious milk bottle notes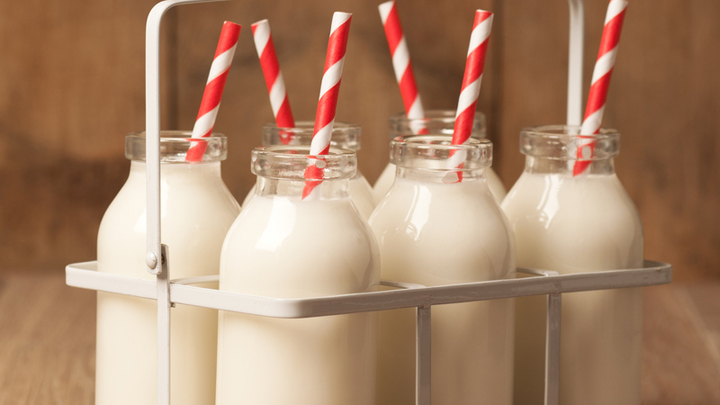 Bottled milk was once the norm in cities and larger towns. Whether or not you remember the milkman leaving bottled milk, these milk bottle notes should give you a laugh…
No milk. Please do not leave milk at No. 14 either as he is dead until further notice.

Milkman, please close the gate behind you because the birds keep pecking the tops off the milk.

 

Dear milkman: I've just had a baby, please leave another one.

When you leave my milk please knock on my bedroom window and wake me because I want you to give me a hand to turn the mattress.

Please leave an extra pint of paralysed milk.

Please send me a form for cheap milk, for I have a baby two months old and did not know about it until a neighbour told me.

Please send me details about cheap milk as I am stagnant.

 

Will you tell your horse not to poo outside my house. It's better at number 17, he puts it on his strawberries.

 

Cancel one pint after the day after today.

 

My back door is open. Please put milk in 'fridge, get money out of cup in drawer and leave change on kitchen table in pence, because we want to play bingo tonight.

Milkman, please could I have a loaf but not bread today.

 

Please don't leave any more milk.  All they do is drink it.

Please knock. My TV's broken down and I missed last night's Coronation Street. If you saw it, will you tell me what happened over a cup of tea?

Milk is needed for the baby. Father is unable to supply it.

 

Please cancel milk. I have nothing coming into the house but two sons on the dole.

Just to let you know my aunt died at number 23 and won't need milk for the foreseeable future.

Milkman please put coal on the boiler, let dog out and put newspaper inside the screen door. 

P.S. Don't leave any milk.
Ad. Article continues below.
And now to end with two that are models of clarity:
Please leave no milk today. When I say today, I mean tomorrow, for I wrote this note yesterday.

From now on please leave two pints every other day and one pint on the days in between, except Wednesdays and Saturdays when I don't want any milk.
Do you remember milk being left on the doorstep or the porch? If so, you will no doubt recall some funny notes left for the milkman.
Thank you for John for sending this through. If you want to read some other great jokes, click here. Or to submit one of your own to share with the Starts at 60 community, click here.