Joe Biden gives Barack Obama an adorable birthday present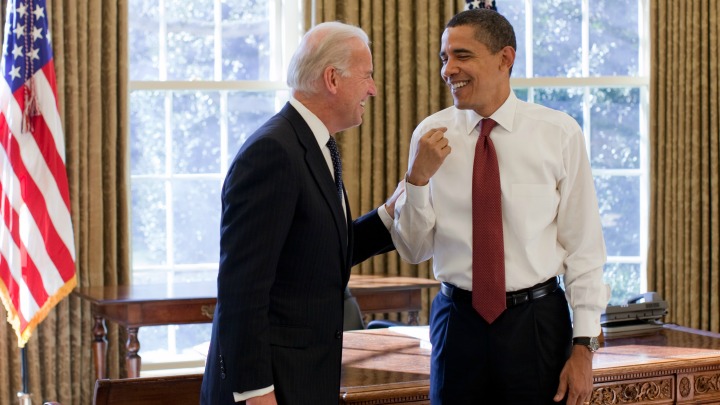 It looks like the 'bromance' between US president Barack Obama and his VP Joe Biden is only getting stronger!
Today is Barack's 55th birthday and to honour the occasion, Joe gave Barack a very special and rather funny gift – a friendship bracelet.
While these bracelet's are usually spotted on the wrists of young girls in the playground, Joe decided there was no better way to show his friend how he felt than to present him with his very own.
He shared a photo of the bracelet on Twitter with a message that read: "Happy 55th, Barack! A brother to me, a best friend forever."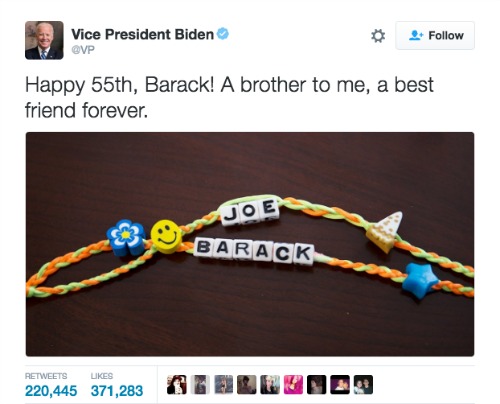 Love it!
While the relationship between leaders and their deputies is often very professional and (as Kevin Rudd and Julia Gillard would tell you) sometimes extremely tense, Joe and Barack are very close with their families often spending time together on weekends and holidays.
The pair are regularly seen laughing and joking together and always seem to have each others backs – a refreshing change!
Ad. Article continues below.
Happy 55th, Barack! A brother to me, a best friend forever. pic.twitter.com/uNsxouTKOO

— Vice President Biden (@VP) August 4, 2016
Barack is reportedly quite protective of Joe, who has suffered great tragedy in his life. In 1972, Joe's first wife and one-year-old daughter were killed in a car accident while out Christmas shopping, leaving Joe to raise their two sons, Beau and Hunter, as a single parent.
He later remarried and had another daughter with his wife Jill. Sadly, Beau passed away last year aged 46 after battling with brain cancer for a number of years.
Barack delivered the eulogy at Beau's funeral and is said to have been a huge support to Joe throughout Beau's illness and following his death.
Ad. Article continues below.
Isn't it nice to see two political figures getting on like this?
After giving Barack his present, Joe joined the president as he blew out the candles on his cupcakes! The White House shared this picture of the moment.
There's no word yet on what Barack's birthday plans are, but no doubt they'll definitely include his 'best friend forever', Joe.
Do you wish Australia's leaders were this friendly? Do you have a birthday message for Barack?